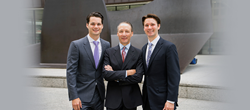 CHICAGO, Ill. (PRWEB) May 13, 2016
Salvi, Schostok & Pritchard P.C. is proud to announce its attorneys recently have achieved more than $1 billion in verdicts and settlements on behalf of injured clients they have represented. The law firm joins a very select group of plaintiff law firms in the country to have accomplished this milestone.
In 1978, Patrick A. Salvi began his legal career working for his father, Albert S. Salvi, in Lake Zurich, Ill. In 1982, Mr. Salvi established his own law firm, The Law Offices of Patrick A. Salvi P.C., in Waukegan, Ill. Mr. Salvi won several groundbreaking personal injury cases during his first few years in practice. This helped launch the firm to one of Illinois' premiere personal injury firms.
As his law firm grew, so did its name, transitioning to Salvi & Schostok P.C. in 1998, and then Salvi, Schostok & Pritchard P.C. in 2000, a year after the firm opened an office in Chicago. Today, the firm has 15 lawyers who are supported by a staff of more than 35 people. Two of those attorneys include Mr. Salvi's sons, Patrick A. Salvi II and Brian L. Salvi. Patrick Salvi II joined the firm in 2007 and was named partner in 2012. Patrick Salvi II has himself won numerous multi-million dollar verdicts. Brian Salvi joined the firm in the fall of 2013.
Over the past decade, Salvi, Schostok & Pritchard P.C. has routinely been listed as one of the top law firms in Illinois with the highest reported settlement totals—many of them record setting in numerous Illinois counties.
Mr. Salvi has become one of the most prominent attorneys in the country. He was selected in 2014, 2015 and 2016 to the Illinois Super Lawyers Top 10 List. In 2016, Mr. Salvi was named one of the top 10 Illinois lawyers in all categories by Leading Lawyers Magazine. He was also named one of the "Best Lawyers in America" by Woodward/White, Inc. Additionally, Mr. Salvi was the recipient of a 2011 and 2012 Award for Trial Lawyer Excellence by The Jury Verdict Reporter and Law Bulletin Publishing Company.
While Mr. Salvi is proud of his achievements, he considers his greatest success building a team that enjoys an excellent reputation and strives for justice on a daily basis. The total number of verdicts and settlements obtained by attorneys in the Chicago and Waukegan offices includes 215 cases with verdicts or settlements of $1 million or more, all adding up to more than $1 billion.
For more information on Patrick A. Salvi or the law firm Salvi, Schostok & Pritchard P.C., please contact Marcie Mangan, Public Relations Manager, at (312) 372-1227 or mmangan(at)salvilaw(dot)com.