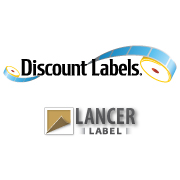 We're excited to formally combine our capabilities so that we can offer the best of both brands to our customers.
Louisville, KY (PRWEB) May 16, 2016
Custom Labels leader Discount Labels is forming a strategic partnership with Lancer Label to provide its national network of resellers a single source for high-quality custom labels. Discount Labels is located in New Albany, Indiana while Lancer Label is located in Omaha, Nebraska. With this partnership, both companies can now offer customers the largest selection of custom label solutions coast to coast.
"We're excited to formally combine our capabilities so that we can offer the best of both brands to our customers," says Matt Zeyher, VP of Business Development. "From durable labels to variable data labels to high-quality prime labels in short, medium or long runs, our distributors will be able to offer more solutions to their customers, which can mean more growth opportunities for them."
The companies have seamlessly integrated their production workflow to achieve efficiencies, and pass time and cost savings along to customers. They also remain committed to their hallmark levels of quality, service, speed and value. "This partnership is a real win for our customers," says Zeyher. "They will continue to receive the same 'gold standard' expertise, service and value when they contact either Discount Labels or Lancer Label."
About Discount Labels:
Discount Labels specializes in die cut labels, premier labels, durable labels, UL labels, variable data labels, printer labels, magnets, stamps and promotional products for every industry including automotive, construction, healthcare, manufacturing, restaurant and retail. Discount Labels sells through the largest authorized label distributor network in the U.S. and Canada. Eligible dealers are active in one of the following industries: printing, graphic arts, specialty advertising, business forms, packaging and shipping, signs, banners, rubber stamps, or office products. Established in 1965, Discount Labels has grown to be America's largest wholesale label supplier. Find more information at http://www.DiscountLabels.com and visit us on Facebook, Twitter and Google+.
About Lancer Label:
With over 50 years of experience in the label industry, Lancer Label is dedicated to helping distributors grow their businesses. With the industry's best sales materials, outstanding customer service and versatile printing capabilities we are here to support our distributors every step of the way. We make selling labels easy! For more information and to place orders online, visit LancerLabel.com. For the latest news and labeling promotional offers, find Lancer Label on Facebook, LinkedIn, Twitter and Google+.