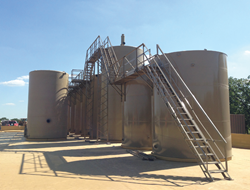 We have extended the life span and performance of some of our mechanical seals by changing the metallurgy and elastomer composition to withstand the harsh enviornment." Mike Stone - General Manager of Production Pumps
Beaumont, Texas (PRWEB) June 10, 2016
Featured products include 200 - 1,000 BBL surface storage tanks and gun barrel tanks built to API 12F/12P specifications and constructed of steel or fiberglass.
A complete line of pumps including ANSI Centrifugal Pumps are available in carbon or stainless steel. Dragon is a stocking dealer of Pinnacle –Flo 8896 and the company's line of pumps are 100% interchangeable with Goulds HT 3196 series. Positive displacement pumps are also available in 5HP - 400 HP and are electric driven with diesel and natural gas options and are equipped with variable frequency drive and soft start panels. Dragon pump customers have the added peace of mind of Dragon's testing, repair, and field service to minimize downtime and keep operations running smoothly.
Dragon also offers truck loading, truck unloading and pipeline LACT units with automated operations and remote access to stored data. The Lease Automatic Custody Transfer (LACT) unit is the critical system in custody transfer for crude oil and petroleum products from production to trucks, pipelines or storage tanks.
Mike Stone, General Manager of the production pump product line says, "Our service team goes the extra mile to solve customer problems, not just replace the part and send them back to the field. Our customers are encouraged to bring us their biggest challenges and toughest problems."
Stone cites a specific example of Dragon's ability to deliver real solutions. "We have extended the life span and performance of some of our mechanical seals by changing the metallurgy and elastomer composition to better withstand the harsh corrosives and high temperatures of their performance environment. In so doing we have done much more than just replace the customer's worn out seal…we have redesigned and replaced it with one that performs better and lasts longer. We aspire to do more than just fix or replace; we want to solve real problems with solutions that add real value to our customers' work."
In addition to storage tanks and production pumps from Dragon's Production Equipment Services (PES) group the Tank and Trailer division has long supplied the energy service industry with some of the toughest Vacuum Trailers and Crude Haulers on the market. According to Todd Henning, regional Vice President, "Dragon's aluminum and carbon steel trailers come equipped with a non-corrosive liner and the stainless steel trailers are lined with corrosive 316L material which is the most corrosive resistant stainless steel made making them well suited to the harsh corrosives in produced water. Skidded frac tanks and upright 400bbl frac tanks are also offered to our customers for temporary storage."
To learn more about Dragon's line of saltwater disposal equipment visit http://dragonproductsltd.com/SWD and for the complete line of surface production equipment and trailers please visit http://dragonproductsltd.com or call 800-231-8198.
About Dragon Products, Ltd.
Dragon Products, Ltd is a leading manufacturer of mission critical products serving the energy and industrial industries. U.S. and family owned and operated for more than 50 years the Dragon name is synonymous with "severe duty engineered" equipment for a broad range of applications including well servicing, bulk storage, liquid and solids hauling and a variety of pumping and mud solutions. Our equipment portfolio includes tanks and trailers; roll off equipment; pumps and stimulation equipment; mobile workover rigs; and surface production equipment.