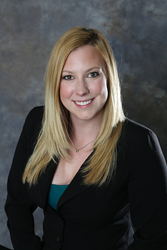 "Hannah's passion for helping clients achieve their preferred outcomes blends perfectly with her unique understanding of challenges facing all clients, especially women," said Justin Anderson, president of AmeriFlex® Financial Services
Santa Barbara, CA (PRWEB) May 13, 2016
AmeriFlex® Financial Services, a Santa Barbara, CA based privately-owned financial services firm, announced today the appointment of Hannah Buschbom, CFP®, CDFA as partner.
Hannah's responsibilities include leading the financial planning department and working cooperatively with clients to develop creative solutions to their often complex scenarios. This method, she says, helps clients reach their preferred outcomes – for example, stacking income sources to fund retirement needs, or monetizing a home or business to create liquidity.
Hannah joined the AmeriFlex® Team in 2010. "Hannah's passion for helping clients achieve their preferred outcomes blends perfectly with her unique understanding of challenges facing all clients, especially women," said Justin Anderson, president of AmeriFlex® Financial Services. "She has been, and continues to be an integral part of our ensemble, and we are excited to welcome her as a trusted partner."
Hannah received her Bachelor's Degree at Westmont College in Economics and Business with a focus in Accounting. Her additional accomplishments include the designation of Certified Divorce Financial Analyst Designation® (CDFATM) and CERTIFIED FINANCIAL PLANNER™ (CFP®).
Hannah is active in her community by volunteering for Team in Training (http://www.lls.org), an active member of the Junior League of Santa Barbara (http://www.jlsantabarbara.org), and serves on the board for DAWG (http://www.sbdawg.org).
Founded in 1988, AmeriFlex Financial Services is a privately owned financial services firm based in Santa Barbara, CA. Its team of professionals provide financial confidence to businesses, nonprofit organizations, families and individuals. For more information, please visit http://www.AmeriFlex.com
Financial Advisors and Registered Representatives associated with AmeriFlex® Financial Services offer securities and advisory services through SagePoint Financial, Inc., member FINRA/SIPC. Insurance services offered through AmeriFlex® Financial Services, which is not affiliated with SagePoint Financial, Inc or registered as a broker-dealer or investment advisor