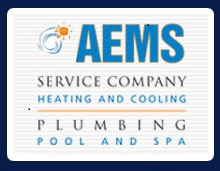 Tennent, New Jersey (PRWEB) May 12, 2016
AEMS Service Company ("AEMS" or the "Company"), a leading HVAC and plumbing services provider located in Central New Jersey, announced that Sudeep Das, a private investor and resident of Princeton, New Jersey, has purchased the Company's business. The Company shall continue operating under its current brand.
AEMS has a long history of servicing businesses and homeowners with a full range of heating, air conditioning, energy management systems, and plumbing services. The Company was founded in 1979 by Roy Matthews, who will transition from day-to-day operations to a strategic advisory role. The rest of the current team, including Mike Ruberto, who has been responsible for service delivery and customer relationships for the last 10 years, will remain intact and continue in their respective roles.
"I am incredibly excited to purchase a company with 37 years of history in the HVAC and plumbing services industry here in New Jersey. I am very much looking forward to partnering with the team, many of whom have worked here for a decade or longer and have deep expertise in tackling complex customer issues. Together, I hope to carry on the legacy of quality of work and responsiveness that this Company was built on, grow the business organically and through add-on acquisitions, and ultimately, strengthen our status as the service provider and employer of choice in this region," said Sudeep Das, president and CEO.
Even though there is a change in ownership, the company will stay at 395 Main Street in Tennent, New Jersey, where it has been located for over 20 years. AEMS will retain all employees.
"I searched for years to find a motivated buyer who shared my views on how to run and grow a 5-star service organization. Sudeep Das embodies all the business qualities and skills that I am certain will continue AEMS's proud traditions, and build on them. Our shared goal is to always exceed expectations." said Roy Matthews, founder of AEMS.
Terms of the transaction were not disclosed.
About AEMS Service Company. AEMS is an HVAC and plumbing services provider located in Central New Jersey. Founded in 1979, the Company has a long history of designing and providing effective energy management solutions to businesses and homeowners in the State of New Jersey and surrounding areas. For more information, go to AEMSServiceCo.com.
About Sudeep Das. Sudeep is a civil and environmental engineer by training, and has a total of 17 years of experience in the private equity, mergers and acquisitions, and technology services industries. Sudeep is a graduate of the University of Chicago's Booth School of Business, University of Toledo's College of Engineering and Malaviya National Institute of Technology (India). Sudeep and his family are residents of Princeton, New Jersey.