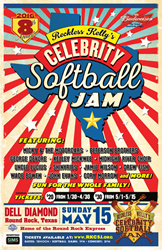 Houston, TX (PRWEB) May 12, 2016
FireDisc Founders, Griffin and Hunter Jaggard, have set a strong example to their team on the importance of giving back. They are proud supporters of the National MS Society, National Breast Care Foundation Inc. and Bridges to Life – yet they also don't forget about the local community surrounding them. It is no surprise that their paths would cross with the like-minded Reckless Kelly brother-duo, Willy and Cody Braun – also known for their community support and generosity. The foursome are collaborating in support of the hugely successful Reckless Kelly Celebrity Softball Jam to give back to Austin's youth.
The impetus behind the original Reckless Kelly Celebrity Softball Jam was to create a signature event uniting friends from the worlds of music and sports to benefit Austin's youth. In eight years, the Softball Jam has raised over $300,000 for area youth leagues including: South Austin Little League, Balcones Little League, Montopolis Little League, Del Valley Little League, The Miracle League at Town & Country, The Miracle League of San Antonio, Greater East Austin Youth Association and RBI Austin. This support included a $150,000 renovation of Mabson Field in East Austin.
2016 Reckless Kelly Celebrity Softball Jam Details:
Date: May 15th at the Dell Diamond in Round Rock
3400 E Palm Valley Blvd,
Round Rock, TX 78665
12:00 – Gates Open
1:00 – Game Starts
3:00 Concert Starts
http://www.rkcsj.org/
Artists:
Cory Morrow, Micky & The Motorcars, Midnight River Choir, Shinyribs, Jamie Wilson, Kelley Mickwee, Peterson Brothers, John D Hale, John Evans, George Devore, Wade Bowen, Drew Fish.
Participant Athletes:
Brooks K, Glenn Wilson Jr., Glenn Wilson Sr., Greg Swindell, Ahmad Brooks, Norm Charlton, Brooks Kieschnick, Kasey Studdard, Quan Cosby, Josh Becket
Media Personalities:
TJ Greaney, Kirsten Winquist, B-Doe, Eric Raines, Andy Langer, Brendan Anthony, Addie Broyles, Anne Hudson, Charlie Hodge, Chris Mosser, Erin Hogan
FireDisc Support:
FireDisc® will be ons-ite throughout the event providing a variety of backstage culinary delights to all performers. Additionally, they will donate 10% of all online sales through the next month to Kids in a Groove.
To help support the Reckless Kelly Softball Jam go to:
http://www.firediscgrills.com
Use promotion code: softballjam2016
About Reckless Kelly:
Austin-based, Reckless Kelly (name inspired by Australian bushranger Ned Kelly) is Americana/Roots Rock at its finest with 9 albums and counting. Led by brothers, Willy (vocals/guitar) and Cody (vocals/fiddle/mandolin/harmonica), the Brauns had previously toured with their father in Muzzie Braun & the Boys, a Western swing band. Ultimately they formed their own group, folding in lead guitarist Casey Pollock, bassist Chris Schelske, and drummer Jay Nazz.
The band played locally on historic Sixth Street in Austin in renowned venues including Stubbs Barbeque, Saxon Pub, Antone's Home of the Blues and a small bar/restaurant called Lucy's Retired Surfers Bar, which they turned into a noted music venue. Reckless Kelly's debut album, Millican, appeared in the fall of 1997 and was officially released in 1998. Acoustic: Live at Stubb's and The Day both followed two years later, after which David Abeyta replaced Pollock on lead guitar. Under the Table and Above the Sun from 2003 began the band's relationship with the high-profile Sugar Hill label and won the hearts of the music press and honky tonkin' legend Joe Ely, who sang the band's praises in interviews. Wicked Twisted Road was released in 2005, and the next year the live album Reckless Kelly Was Here captured the band's stage presence. Bulletproof was released in the summer of 2008 on a new label, Yep Roc Records. In 2010, Reckless released an album of songs by one of their musical heroes, Pinto Bennett. Somewhere in Time, in the band's own words, highlighted their love of "straight-up honky tonk". The band regularly returns to Austin to play before capacity crowds at venues like Nutty Brown Cafe & Amphitheatre. For more information visit http://www.recklesskelly.com
About FireDisc® Grills:
Texas-based FireDisc® Grills specializes in the design and manufacturing of the world's most the innovative, high-quality and versatile outdoor grills and accessories. The company was founded by two entrepreneurial brothers, Griffin and Hunter Jaggard, who, armed with a makeshift tractor plow disc set out on a mission to build a grill worthy of everyone from the world's top chef's to hunters, backyard family grill masters, tailgaters and campers. FireDisc® Grill products are currently sold nationally via 500+ retail locations in over 31 states and online throughout the globe.
Heavy-duty carbon steel construction render the grills indestructible, while meticulous designs yield convenient portability and ease-of-use. A rigorous "Chef-tested/Chef-Approved" quality assurance program enables the grills to deliver unmatched grilling characteristics, as they have been vetted by some of the world's leading chef's. Prior to their launch of FireDisc® Grills, the founders formed a non-profit to raise money and find a cure for Multiple Sclerosis. To date $1M has been raised via "The Carney Men" Bike MS team. Community involvement is the core of the FireDisc® brand in addition to the National MS Society they are proud supporters of the American Cancer Society, Wounded Warrior Project and many more. For more information visit http://www.firediscgrills.com
###