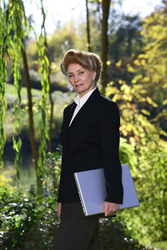 Grants Pass, OR (PRWEB) May 17, 2016
May is National Eye Institute (NEI) "Healthy Vision Month." In honor of the occasion, water and health advocate Sharon Kleyne recently examined the NEI's "Facts about Dry Eye" Web page https://nei.nih.gov/health/dryeye/dryeye. While Kleyne agreed with everything they said, there was an omission that concerned her. Since dry eye is a disease involving a loss of tear film water at the eye's surface, the first line of treatment, in Kleyne's view, should logically be to supplement the missing water. The NEI Web page makes no mention of water supplementation therapy for dry eye.
Kleyne will discuss Healthy Vision Month, dry eye and the NEI's Web page on her Sharon Kleyne Hour™ Power of Water® radio show of May 16, 2016. The globally syndicated, education oriented show is heard weekly on VoiceAmerica (Health and Wellness, and Variety Channels) and Apple iTunes. For podcasts of this or other past shows, go to http://www.voiceamerica.com/show/2207/the-sharon-kleyne-hour.
"Sharon Kleyne Hour® Power of Water®" is sponsored by Bio-Logic Aqua® Research Water Life Science®, founded by Kleyne and specializing in fresh water, the atmosphere, body surface evaporation, dehydration and education. The Research Center's signature consumer product is Nature's Tears® EyeMist® for dry eye.
The NEI page, Kleyne reports, lists two types of dry eye, "aqueous" and "environmental." The "aqueous" type is described as loss of tear film water content due to insufficient tear gland production. The "environmental" type is described as insufficient production of tear film lipids by the eyes' "meibomian glands," located in the eye lids. Meibomian glands secrete a thin layer of oil (lipid) over the watery tear film to help prevent the water from evaporating. If there is too little oil, tear film water is more likely to evaporate, resulting in dry eye symptoms.
Kleyne and many other ophthalmologists believe that dry eye is far more widespread than commonly believed and that as many as 90 percent of the population experiences occasional dry eye symptoms. Kleyne believes that even if the tear glands and meibomian glands are functioning properly, external environmental conditions that cause water to evaporate more quickly can diminish tear film water content, resulting in dry eye discomfort.
External environmental conditions that cause water to evaporate more rapidly, says Kleyne, include very warm air, very dry air, airborne particulate pollutants, pollen, dust and certain chemicals. Cold air and wind can also dehydrate the ocular surface. In this age of climate change, global warming and poor air quality, the chances of experiencing dry eye symptoms as a result of exposure to the external environment have increased dramatically.
The NEI briefly acknowledges the role of dry air at the very end of their article, "under "prevention," where it recommends "avoiding dry air."
The surface of the eye, Kleyne explains, is 99 percent water. A loss of only 2 percent of that water can trigger eye surface inflammation resulting in symptoms such as itching and burning eyes, blurred vision, fatigue and headaches.
The best way to prevent dry eye, according to Kleyne, is to become educated about dry eye risk factors and about strategies to either avoid them or minimize their impact.
One important strategy to minimize the risk of dry eye, says Kleyne, is body hydration – drinking at least eight glasses of water a day (in addition to all other fluids). This will keep eyes and tear glands healthy and functioning properly. Room humidifiers and avoiding indoor air with forced air heating or cooling, are also helpful.
To quickly supplement tear film water already lost, Kleyne recommends an all-natural, personal, hand held eye humidifying device such as Nature's Tears® EyeMist® from Bio-Logic Aqua® Research Water Life Science®. Formulated eye drops, Kleyne notes, do not add water to the tear film. Their benefit is to help seal in moisture after the lost water has been replaced using a product such as Nature's Tears® EyeMist®.
Kleyne's views on water supplementation therapy for dry eye are supported by her Research Center's Medical Advisory Board and endorsed by 22,000 Optometrists and Ophthalmologists in the United States and China. She urges the NEI to add a discussion of water supplementation therapy to their Web page.
©2016 Bio-Logic Aqua® Research Water Life Science®. All rights reserved.
Source:
"Facts about dry eye," NIH/NEI, last reviewed August 2009. https://nei.nih.gov/health/dryeye/dryeye