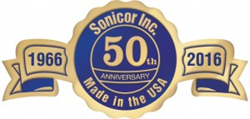 West Babylon, NY (PRWEB) May 15, 2016
Sonicor, a leading manufacturer of ultrasonic cleaning and vapor degreasing systems for over 50 years, is now featuring an advanced and innovative new ultrasonic cleaning device as well as a durable and flexible new product line that offers an enhanced level of operator safety.
The Sonicor IPRT-1200S Ultrasonic Cleaner is designed specifically for the removal of investment casting plaster used in the lost wax casting process. The polypropylene ultrasonic tank is fabricated in three sections which prevents the cleaning solution and removed plaster from coming into contact with the stainless steel transducers, minimizing erosion of the stainless parts. It features easy to remove hard-chromed immersible transducers for quick maintenance, therefore sediment and used cleaning solution can be removed from the cleaning chamber whenever desired.
Designed to be used with the specially formulated, Sonicor Cast-off #304 solution, complete cleaning is achieved in minutes without corrosive fumes or hazardous acids that can be dangerous to operators.
The "VWE" Series Ultrasonic Vapor Degreasers with Automated Workload Elevator are new systems that offer the latest in solvent emission control, with a full upper enclosure to protect operators from exposure to solvent vapors. A programmable PLC operator interface controls the workload elevator and all of the vapor control functions of the system. These unique new systems of vapor degreasers offer a superior level of reliability, performance and operator safety.
About Sonicor:
Since it was first established in 1966, Sonicor has been building ultrasonic cleaning devices and automation systems that have been used by hundreds of manufacturers worldwide. Sonicor precision cleaning systems has provided critical cleaning devices and solutions to leading companies in virtually every industry. To learn more about Sonicor please visit http://www.sonicor.com