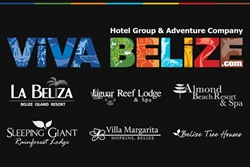 ViVA BELiZE was built on adventure, and adventure is still what ViVA BELiZE is all about today
Belmopan, Cayo (PRWEB) May 14, 2016
For the past 20 years, ViVA BELiZE has been pioneering active vacations in the premier Adventure Travel destination, Belize. With six full-service Belize Resorts - one island resort, two premier jungle lodges and three superb southern beach resorts strategically located within Belize's most pristine surroundings, the Hotel Group offers a wide range of accommodations, adventures, amenities and services for a breathtaking All Inclusive Belize experience.
The new series of 2-minute videos provides a glimpse into an array of adventures and activities in store for visitors who are planning a vacation to Belize and showcases the variety of locations and settings guests can experience in a ViVA BELiZE Vacation.
"Adventure travel is what ViVA BELiZE was built on over 20 years ago when we opened the very first resort, Jaguar Reef Lodge in the quaint seaside village of Hopkins in southern Belize..." said Lizbeth Casasola, Marketing Director of ViVA BELiZE Hotel Group & Adventure Company, "and adventure travel is still what ViVA BELiZE is all about today, but now our guests can stay in much more comfort than before. Belize has endless amazing adventures & activities to offer and a ViVA BELiZE vacation makes it easy to experience them all!"
Erik Lyoth, Managing Director, ViVA BELiZE Hotel Group & Adventure Company highlights that "Every adventure and experience shown in the new videos are authentic experiences of activities and locations available throughout the Six ViVA BELiZE Resorts. Belize is one of the most beautiful and diverse travel destinations in the world. It's the only English speaking country in Central America - with the friendliest smiling people you can imagine. We hope the series of videos will attract more visitors to travel Belize, and we are ready to make their experience a breathtaking one."
The series of videos will be launched one video per week, every Friday:
VIDEO LAUNCH was Friday May 13th 2016:
ViVA BELiZE - Belize Adventure
Sleeping Giant Rainforest Lodge, A Grand Jungle Expedition
Jaguar Reef Lodge & Spa, A Scuba Diver's Paradise
La Beliza Island Resort, A Relaxing Island Getaway
Almond Beach Lodge & Spa, A Haven for Romance and Wellness
Belize Tree Houses at Ian Anderson's Caves Branch, A Jungle Canopy Adventure
Villa Margarita, a Tranquil Beach Hideaway
ViVA BELiZE - Belize Relaxation
How to Watch
The videos will be available at http://www.vivabelize.com and through ViVA BELiZE's social media channels, including YouTube and Facebook. For those interested in receiving periodic updates on future videos and ViVA BELiZE news, please sign up for our newsletter at http://www.vivabelize.com.
About ViVA BELiZE
The ViVA BELiZE Hotel Group and Adventure Company is the leading Hotel Group & Adventure Company in Belize for the past 20 years. It is owned & managed by Canadian and Swiss Hospitality Pioneers who are committed to provide an exceptional vacation experience along with a myriad of adventure opportunities in Belize's most pristine and spectacular destinations. It offers six award-winning full-service hotels including one outstanding island resort, two premier jungle lodges and three superb southern beach resorts that can be book separately or combined into one exciting Belize Vacation.
ViVA BELiZE - Your Gateway To A Breathtaking Belize Experience!