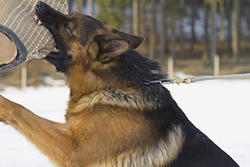 People who have been seriously injured by an attacking dog deserve compensation and should not be reluctant to seek it through civil legal action
CHICAGO, Ill. (PRWEB) May 13, 2016
Each year, more than 4.5 million people in the United States are bitten by dogs. Children are by far the most common victims of dog bites and are much more likely to be severely injured. Attorney Brian L. Salvi has represented many victims of dog bite attacks and has some important facts you should know about dog bites ahead of National Dog Bite Prevention Week, which is observed from May 17-23, 2016.
It is a simple fact of life that dogs bite; this includes any dog of any breed. A dog bite can be anything from a simple nip, to a traumatic attack that leaves a serious injury. According to a report from the American Veterinary Medical Association, more than 800,000 Americans receive medical attention for dog bites each year. At least half of these dog bite victims are children. A majority of dog bites occur during everyday activities and while interacting with familiar dogs.
Serious dog attacks (ones that include biting, scratching, and cause significant traumatic or psychological injury) can result in acute injuries that can require up to $1 million in specialized medical care. A serious injury suffered in a dog attack is reason to hold the dog's owner accountable and for the dog bite victim to seek compensation for all medical expenses, pain and suffering and other harm caused by the bite.
Dog bite victims may seek compensation to cover their past and future medical expenses, lost income and diminished earning capacity, pain and suffering, emotional distress, and other related losses. Those who have been injured in a dog attack should not be reluctant to seek it through civil legal action – it will not come out of a friend or neighbor's pocket. The compensation recovered in a dog bite claim almost always come from the dog owner's insurance, such as homeowners' insurance or business liability insurance. Dog bites accounted for more than one-third of all homeowners' insurance liability claim dollars paid out in 2014 and resulted in more than $530 million in compensation for victims, according to the Insurance Information Institute and State Farm Insurance.
A majority of dog bites, if not all, are preventable. Properly training and socializing your pet and educating your children on how to approach a dog are just a few of the solutions to this public health crisis.
Salvi, Schostok & Pritchard P.C. has a history of protesting the rights of dog bite victims. Attorney Brian L. Salvi is available to discuss dog bite awareness in further detail. To schedule an interview, please contact Marcie Mangan, Public Relations Manager, at 312-372-1227 or mmangan(at)salvilaw(dot)com.