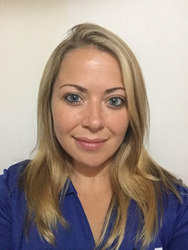 We believe Theresa's talent will help this company reach new heights
New York, NY (PRWEB) May 16, 2016
Guaranteed Returns® is pleased to announce the promotion of Theresa Dolcimascolo to Director of Field Services.
Theresa will assist the Guaranteed Returns® Service Representatives throughout the country in providing unrivaled service to GRx customers. Theresa joined Guaranteed Returns in 2010 as a Lead Scanning Clerk in the Processing department. Over the years she held several positions including Assistant Manager of Processing, Manager of Receiving and Regional Account Executive.
Theresa brings a wealth of experience to the Outside Sales department and GRx is excited about her new role in the company. She understands all aspects of the pharmaceutical returns business from packing up the boxes to receiving and processing product in the GRx processing center. This will help her support Guaranteed Returns Service Representatives and ultimately the customers to have the best on-site service experience possible.
"With Theresa's organizational and strategic planning abilities we are eagerly anticipating the positive impact she is going to have within GRx service team. We believe her talent will help this company reach new heights," says Toni Ann Meadows, V.P National Sales & Customer Service for Guaranteed Returns®.
About Guaranteed Returns®
Guaranteed Returns® provides pharmaceutical return services to independent retail, chain-store, hospital, government, LTC, Mail-Order and clinic pharmacies. Mail-in and On-site service options are available. GRx local on-site service representatives are highly valued for their professionalism, trustworthiness and for "going above and beyond."
All customers have access to the customer portal which provides cradle to grave documentation, an online inventory program, mail-in pharmaceutical returns forms (with auto-filled account information), and mailing and shipping labels.
Visit our website or call 1.800.473.2138 today to learn more.