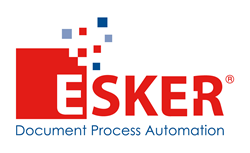 "Esker's goal at SAPPHIRE NOW is to show how our automation solutions easily integrate with an existing SAP interface to improve visibility, increase productivity and lower costs, all without adding complexity."
ORLANDO, FL (PRWEB) May 17, 2016
Esker, a worldwide leader in document process automation solutions and an SAP partner, today announced its participation at SAPPHIRE® NOW and ASUG Annual Conference being held May 17-19 in Orlando, Florida.
Presenting in booth #856, Esker will highlight how its accounts payable (AP) and sales order processing (SOP) solutions fully integrate with and enhance organizations' SAP® solutions. Attendees will be able to spot Esker's booth by its teal and white color scheme and "Mind Your Business" messaging.
Esker's suite of document process automation solutions include:

Order processing automation
Paper-free accounts payable invoice processing
Automated accounts receivable invoice delivery and collections management
Electronic purchasing
Mail services and cloud faxing
"Many organizations expend a large amount of time and resources on manual solutions or fixes when it comes to accounts payable and order processing," said Steve Smith, chief operating officer at Esker. "Esker's goal at SAPPHIRE NOW is to show how our automation solutions easily integrate with an existing SAP interface to improve visibility, increase productivity and lower costs, all without adding complexity."
In Esker's booth, visitors can receive more information about the company's solutions via email by having their badges scanned. Opportunities to pick up assorted prizes will be available for attendees who stop by the booth. In addition, attendees who schedule an in-booth demo will be entered to win an Apple Watch.
Throughout the SAPPHIRE NOW conference, Esker professionals will be offering a variety of live educational opportunities for attendees to discover more about the benefits of document process automation.
In-booth demonstrations: Esker's designated space (booth #856) features three separate stations where demos will be held throughout the conference on topics such as accounts payable and order processing.
Theatre presentation: On Thursday, May 19, at location PS602 from 11:00-11:20 a.m., Esker will host a comprehensive theatre presentation titled: "Exploring Esker's Impact — from Order Fulfillment to Customer Service."
This session, featuring Katie Scott, director of customer service at Alere, will highlight how the company used Esker's order processing solution to move from a manual customer service department focused on data entry to a customer service-centric team able to meet service level agreements (SLAs). Howie Hahn, senior sales engineer at Esker, will discuss how Esker automates orders in SAP solution environments. Following the presentation, a live demonstration will take place in Esker's booth #856.
About Esker
Esker is a worldwide leader in cloud-based document process automation software. Esker solutions help organizations of all sizes to improve efficiencies, accuracy, visibility and costs associated with business processes. Esker provides on-demand and on-premises software to automate accounts payable, order processing, accounts receivable, purchasing and more.
Founded in 1985, Esker operates in North America, Latin America, Europe and Asia Pacific with global headquarters in Lyon, France and U.S. headquarters in Madison, Wisconsin. Last year Esker generated 58.5 million euros in total sales revenue. For more information on Esker and its solutions, visit http://www.esker.com. Follow Esker on Twitter @EskerInc and join the conversation on the Esker blog at blog.esker.com.
###
SAP, SAPPHIRE and other SAP products and services mentioned herein as well as their respective logos are trademarks or registered trademarks of SAP SE (or an SAP affiliate company) in Germany and other countries. See http://www.sap.com/corporate-en/legal/copyright/index.epx for additional trademark information and notices.
All other product and service names mentioned are the trademarks of their respective companies.