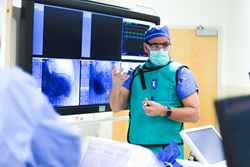 We are pleased to support this relevant and timely conference as it plays an important role in redefining the future of cell therapy as a standard of care. -Matthew Feshbach, CEO, Okyanos Cell Therapy
Freeport, Grand Bahama (PRWEB) May 16, 2016
Okyanos, the leader in adult stem cell therapy, has announced platinum sponsorship of the upcoming Regenera Global conference to be held at the Grand Lucayan Resort in Freeport, Grand Bahama, June 23-25, 2016. Okyanos will host a Cell Therapy Surgical Center Tour and Networking Reception event as part of the conference agenda which can be viewed in full at http://www.regeneraglobal.com.
Titled Regenerative Medicine 2.0: Redefining the Practice, the conference will bring together scientists, clinicians, patients, medical device manufacturers and industry stakeholders in the field of stem cell-based therapies to discuss the transition of evidence-based science to accessible treatments in a clinical setting. Keynote speakers will include Doris Taylor, PhD, Director of Regenerative Medicine Research at Texas Heart Institute; as well as Leslie Miller, MD, Director of Heart Failure and Stem Cell Research at Baycare Health.
"We are pleased to support this relevant and timely conference as it plays an important role in redefining the future of cell therapy as a standard of care," said Matthew Feshbach, CEO of Okyanos. "We have dedicated tremendous effort and resources to bringing stem cell therapy to our patients at the highest possible standards of safety, delivery and care. Our team is proud and excited to share these insights with industry leaders in June."
"Regenera Global is excited to recognize Okyanos Cell Therapy as a platinum sponsor of the upcoming regenerative medicine conference in Freeport, Grand Bahama," added Luis Martinez MD, CEO of Regenera Global, Inc. "Okyanos has established itself as a premier cell therapy provider, and we look forward to an ongoing collaboration as part of Regenera Global's network of affiliates working towards an international goal of redefining the practice in regenerative medicine."
Operating in Freeport, Grand Bahama, Okyanos Cell Therapy began treating patients in 2014. The procedure is premised on the reparative power of adult stem cells isolated from the patient's body fat which have the potential to decrease inflammation, repair damaged tissue, modulate immune response and stimulate new blood vessel growth, and thus address a variety of chronic, degenerative diseases.
Other prominent speakers will include Amit Patel, MD, Director of Clinical Regenerative Medicine and Tissue Engineering at the University of Utah, and Frances Verter, PhD, Founder of the Parent's Guide to Cord Blood Foundation. To learn more about the Regenera Global conference agenda or to register, please visit http://www.regeneraglobal.com.
Patients can contact Okyanos to learn more about cell therapy by calling 1-855-659-2667 or by visiting http://www.okyanos.com.
ABOUT OKYANOS CELL THERAPY: (OH – KEY – AH – NOS)
Based in Freeport, Grand Bahama, Okyanos brings a new standard of care and a better quality of life to patients with chronic, degenerative conditions. Okyanos Cell Therapy utilizes a unique blend of stem and regenerative cells derived from patients' own adipose (fat) tissue which helps improve blood flow, modulate destructive immune response and prevent further cell death. Okyanos is fully licensed under the Bahamas Stem Cell Therapy and Research Act and adheres to U.S. surgical center standards. The literary name Okyanos, the Greek god of the river Okeanos, symbolizes restoration of blood flow.
ABOUT REGENERA GLOBAL, INC.:
Based in Puerto Rico, Regenera Global, Inc. is a bio-technology firm focused on developing and commercializing innovative therapies, providing consulting services and educational events to physicians and healthcare practitioners to expand their knowledge of regenerative medicine clinical applications which may include, but is not limited to, stem cell and gene therapy, tissue engineering, and select medical devices. Regenera Global is working to bridge the gap of access to regenerative medicine between the progress made through research and what is available clinically to physicians and patients.