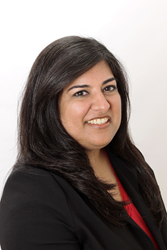 Sonia Vasudeva has broadly contributed to the growth of Acer's channel programs and commercial sales results, and we are pleased that The Channel Company has recognized her accomplishments.
SAN JOSE, Calif. (PRWEB) May 16, 2016
Acer America announced today that CRN®, a brand of The Channel Company, has named Sonia Vasudeva to its prestigious 2016 Women of the Channel list. The women executives who comprise this annual list span the IT channel, representing vendors, distributors, solution providers and other organizations that figure prominently in the channel ecosystem. Each is recognized for her outstanding leadership, vision, and unique role in driving channel growth and innovation.
CRN editors select the Women of the Channel honorees on the basis of their professional accomplishments, demonstrated expertise and ongoing dedication to the IT channel.
Vasudeva is responsible for the development, management and execution of marketing programs and promotions for Acer's distribution and reseller channel partners. Her efforts helped the Acer Channel Excellence (ACE) reseller community grow to more than 1,250 resellers, with average revenue per partner increasing by more than 11 percent year-on-year based on Acer's industry-leading back-end rebates and its significantly expanded professional product portfolio. She also expanded Acer's VAR program offerings in launching Acer Rewards, a customer loyalty program offering incentives via reloadable prepaid debit cards based upon the sales of selected Acer products.
"These executives have made a lasting mark on our industry—growing and elevating partner programs, leading transitions to new business models and introducing cutting-edge go-to-market strategies, among other remarkable achievements." said Robert Faletra, CEO, The Channel Company. "We congratulate all the 2016 Women of the Channel and celebrate their singular contributions to the advancement of the channel ecosystem."
"Sonia Vasudeva has broadly contributed to the growth of Acer's channel programs and commercial sales results, and we are pleased that The Channel Company has recognized her accomplishments," said Richard Black, vice president of marketing, Acer America. "Her efforts have helped Acer achieve significant growth across all of our channel programs, especially in our ACE reseller affinity program, as well as continuing to deliver innovative programs across our network of distribution partners."
The 2016 Women of the Channel list will be featured in the June issue of CRN Magazine and online at http://www.CRN.com/wotc2016.
About Acer
Established in 1976, Acer is a hardware + software + services company dedicated to the research, design, marketing, sale, and support of innovative products that enhance people's lives. Acer's product offerings include PCs, displays, projectors, servers, tablets, smartphones and wearables. It is also developing cloud solutions to bring together the Internet of Things. Acer is celebrating its 40th anniversary in 2016 and is one of the world's top 5 PC companies. It employs 7,000 people worldwide and has a presence in over 160 countries. Please visit http://www.acer.com for more information.
About the Channel Company
The Channel Company enables breakthrough IT channel performance with our dominant media, engaging events, expert consulting and education, and innovative marketing services and platforms. As the channel catalyst, we connect and empower technology suppliers, solution providers and end users. Backed by more than 30 years of unequaled channel experience, we draw from our deep knowledge to envision innovative new solutions for ever-evolving challenges in the technology marketplace. http://www.thechannelco.com
CRN is a registered trademark of The Channel Company, LLC. The Channel Company logo is a trademark of The Channel Company, LLC (registration pending). All rights reserved.
© 2016 Acer Inc. All rights reserved. Acer and the Acer logo are registered trademarks of Acer Inc. Other trademarks, registered trademarks, and/or service marks, indicated or otherwise, are the property of their respective owners.
The Channel Company Contact:
Melanie Turpin
The Channel Company
(508) 416-1195
mturpin(at)thechannelco(dot)com
###