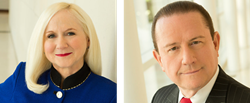 Our firm is fortunate to have so many talented attorneys dedicated to helping our clients.
Dallas, Texas (PRWEB) May 13, 2016
D Magazine has recently issued the "Best Lawyers in Dallas 2016" list and two partners from Verner Brumley McCurley Mueller Parker P.C. were included. Mary Johanna McCurley and Mike McCurley were selected for their achievements in family law.
The annual "Best Lawyers in Dallas" guide is based on nominations submitted by lawyers throughout Texas. These nominations are evaluated by an exclusive panel of preeminent local lawyers and the publication's editors, who compile a final list of outstanding Texas attorneys from more than 35 practice areas.
Mary Johanna McCurley is one of the state's most respected family law attorneys with over 35 years of experience. She has the knowledge and expertise to address all types of matrimonial issues, ranging from family-owned business entities to family psychological issues related to divorce and custody. Mary Jo is a widely published author and frequent lecturer and has appeared before the State Bar of Texas, New York Bar Association, and the American Academy of Matrimonial Lawyers. She has earned multiple honors and awards for her successes in family law and has been Board Certified in Family Law by the Texas Board of Legal Specialization since 1984.
Known nationwide for his expertise in both custody and property cases, Mike McCurley has earned a great deal of recognition from professional organizations and the community. The remarkable individual attention, care and sensitivity he consistently exhibits in his representation of both high-profile celebrities and clients who are lesser known to the general public regularly earns him praise. Mike serves as a frequent resource for some of the nation's leading print, broadcast and digital media outlets, including the Associated Press, Dallas Morning News, Houston Chronicle, USA Today, New York Daily News and Chicago Tribune.
"We are very proud to have Mike and Mary Johanna included on D Magazine's list of 'Best Lawyers in Dallas' again," says Jim Mueller, managing partner of Verner Brumley McCurley Mueller Parker. "Our firm is fortunate to have so many talented attorneys dedicated to helping our clients."
Verner Brumley McCurley Mueller Parker P.C. practices family law throughout Texas with offices in Dallas and McKinney. Our attorneys handle a variety of family law matters in litigation, by trial and on appeal. We also prepare premarital and post-marital agreements and conduct mediations. The firm's attorneys and support staff combine diverse experience and complementary talents with technology to provide clients with attentive and efficient service. For more information visit http://www.vbmmp.com.