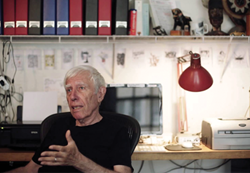 This talk will be the best representation of my thesis, of design as "idea". It's taken a long time; I've worked on it for my whole career. It is my suggestion to the world of design, and the best of what I have to offer. (Bob Gill)
New York, NY (PRWEB) May 13, 2016
designjunction + Dwell on Design opens today (May 13–15, 2016) with a display of cutting-edge design and a highly-curated design talks programme. Taking place within the ArtBeam venue in New York's Chelsea arts district, the event marks the first partnership for designjunction and Dwell on Design during NYCxDESIGN.
The exhibition space features more than 20 contemporary design brands including Artek, Artcoustic, Buster + Punch, Dyke & Dean, Iota, Muuto, Haberdashery, Cuero Design, AARA, Nicolas Buforn, Quadrant, Bokara Rug Company, Designarium, Electric Objects, Stufff Concept Store and Melin Tregwynt.
designjunction + Dwell on Design offers a curated talks programme developed by Dwell editor-in-chief and EVP content, Amanda Dameron. The programme features a host of highly regarded industry professionals including leading architects, designers, creative directors and curators on panels that include opportunities for CEUs (Continuing Education Units) credits. This year's theme is "Exploring the built environment in the modern world."
On Friday, May 13, renowned illustrator, graphic designer and author Bob Gill – who has influenced modern typography, design and graphics for more than 60 years – will headline the talks programme. Other key speakers include: Dorothy Cosonas, creative director of KnollTextiles, and Tim deFiebre, furniture designer and former assistant to Ward Bennett, who will discuss their experiences as stewards of modern design legacies; and Kinder Baumgardner, president of SWA Group, who will share his vision on the potential impact of driverless cars.
On Saturday, May 14, architect Matthias Hollwich and Mikael Ydholm, head of research at IKEA, will discuss how architects and designers are using human-centered research to identify and address today's emerging problems. Rosanne Somerson, president of Rhode Island School of Design, will discuss the productive merits of boredom in an age of social media and how it affects our lives. Saturday will end with a talk on how architecture can engage with the public through design, where Oana Stanescu, cofounder of Family, will join Will Prince of PARC Office to introduce us to the new and imaginative ways in which architects and designers are creating works for the public user.
Sunday, May 15 will begin with a talk on the topic of online commerce with Bradford Shellhammer of eBay, Maria Molland Selby of Splacer, and Teddy Fong of Capsule discussing how digital platforms can engage with users and bridge the gap with a brick-and-mortar presence. Nina Stritzler-Levine, curator and director of the Bard Graduate Center Gallery, will discuss the work of Alvar Aalto's wife, Aino Marsio-Aalto, bringing it to the forefront of public attention. Sunday's programme will finish with Caroline Baumann director of the Cooper Hewitt, Smithsonian Design Museum, and landscape designer Margie Ruddick discussing landscape as an important discipline and aspect of design, as well as a national museum's civic responsibility to preserving green space.
In addition to the talks programme, designjunction + Dwell on Design will provide a community hub for design and architecture. WeWork, the archetypal co-working space, will bring a pop-up workspace to the ArtBeam venue with free wi-fi and furniture provided by Muuto. The show's café area, furnished by Vitra and Artek, welcomes every visitor with a free espresso – served by coffee sponsor illy.
Tickets are available online here.
For the full talks schedule and programme, click here.
Contacts
All media enquiries should be directed to the designjunction team at Caro Communications:
E: designjunction(at)carocommunications.com