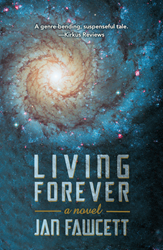 I had malignant melanoma and was evaluated for metastases. When they found I was free of metastases, I had an epiphany
SANTA FE, N.M. (PRWEB) May 16, 2016
Like neurosurgeons Paul Kalanithi and Eben Alexander, who have both written about becoming patients after years of treating patients, Jan Fawcett, M.D., had his eyes opened when diagnosed with malignant melanoma after 30 years in medicine.
The diagnosis gave Fawcett the opportunity to think about what he wanted from life and what he was currently getting.
"I had malignant melanoma and was evaluated for metastases. When they found I was free of metastases, I had an epiphany," Fawcett said. "So I retired from being the chairman of the psychiatry department at Rush Medical University in Chicago, moved to Santa Fe to watch sunsets, and wrote Living Forever."
Living Forever, Fawcett's first work of fiction, is a wake-up call to humanity that technological progress is not always a good thing. The science fiction novel calls for more focus on the creative brain than the rational brain and emphasizes mindfulness as a way to save humanity.
"Conscious life is precious – and we take it for granted," Fawcett said. "We need to be more right-brained – focus on the big picture – on how everything is connected – rather than living a robotic 'business of living' life."
For more information, visit http://janfawcett.com/.
Living Forever
By Jan Fawcett
ISBN: 978-1-47598-459-0
Available in softcover, hardcover, e-book
Available on Amazon, Barnes & Noble and iUniverse
About the author
Jan Fawcett, M.D., is a professor of psychiatry at the University of New Mexico School of Medicine who has devoted his clinical and research career to treating severe mood disorders and trying to prevent suicide. For 30 years, he served as the Stanley Harris, Sr. Chairman of the Department of Psychiatry at Rush Medical College in Chicago. He has published more than 160 journal articles and 40 book chapters and received a number of awards for his research. He has also edited and written monthly editorials for teaching journal "Psychiatric Annals" for more than 20 years. Living Forever is his first novel.
# # #
For review copies or interview requests, contact:
Jaymie Shook
317.602.7137
jshook(at)bohlsengroup.com