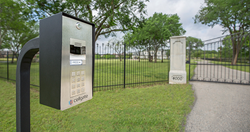 "Anyone that has a home or a business with a gate can benefit from the convenience and increased security of a Watchman system." Noel Gouldin, President of CellGate
Dallas, Texas (PRWEB) May 16, 2016
CellGate has spent the last decade perfecting their cellular gate access control product technology—including Wiegand/data keypad entry systems, telephone entry systems and HD photo cameras. This week they are raising the bar again in the cellular access control industry by launching Watchman™ W440: the first cellular gate access control product capable of sending live streaming video to smart phone users. Watchman works on a cellular LTE network, thus Internet access is not needed; this means a Watchman system can be installed virtually anywhere there is a gate. Watchman's full-featured access control system, with optional second camera, makes it a complete gate security solution for any home or business.
Watchman comes with an HD camera providing live-streaming video, a Wiegand keypad, and telephone entry system—all in one box. Watchman customers download CellGate's smart phone app that allows them to receive live streaming video calls from visitors at their gate, in addition to giving them the ability to grant or deny gate entry from their phone. When a visitor presses the call button, Watchman will call up to three smart phones simultaneously. If there is no answer, up to three more numbers can be called and if there is still no answer, a "regular" landline phone number can be called (audio only). Users can receive text or email alerts whenever someone accesses their gate using the keypad or video call feature, and each alert will include an HD photo of who entered. A Watchman system also includes access to an administrative web portal, where: unique gate access codes can be created for regular visitors like yard men or housekeepers; six months of gate access history can be viewed, including stored photos taken with all gate entry attempts; and the phone numbers to be called when someone comes to the gate can be designated. An optional second camera can also be installed with a Watchman system, giving users the ability to see a visitor and their vehicle from a different viewpoint.
CellGate President Noel Gouldin says that his company was able to develop the feature-rich Watchman system because of their unique system architecture. "All of CellGate's products have been built with the same three components: the hardware, a smart phone app and the web portal built on Microsoft Azure's cloud service," says Gouldin. "Because we have been working with this architecture for a decade, when we were asked by our customers to develop a product with live streaming video, we did not have to start from scratch. We had the right infrastructure to support the video piece; we just had to do some development on the components to make it possible. We are so excited to add Watchman to our product lineup, especially because it has such broad appeal. Anyone that has a home or a business with a gate can benefit from the convenience and increased security of a Watchman system."
Another unique aspect of Watchman in the cellular access control world is that CellGate provides a complete end-to-end solution; CellGate provides the hardware, cellular sim card, LTE cellular service the system operates on, smart phone app and web portal for system management.
Gouldin says that the beauty of Watchman is that it's unique to the market and so feature rich, but so simple to use. "With the broad market appeal Watchman will have, we can see it being installed in so many types of location," says Gouldin. Like our new tagline for the product says—Watchman really is "Your Virtual Security Guard™".
To learn more about CellGate's Watchman W440, visit http://www.cell-gate.com.
CellGate provides products and services for remote monitoring over cellular networks. They are the only technology company with a complete suite of cellular-based security products—encompassing smart keypad entry, voice and camera solutions. With their smart phone application and proprietary web-based portal built on Microsoft Azure's cloud service, CellGate offers flexibility found in no other access control or monitoring solution. Visit http://www.cell-gate.com for more information and to view a live demo.