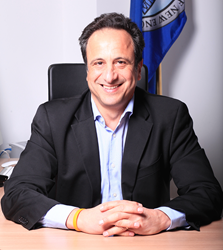 PORTLAND, Maine (PRWEB) May 17, 2016
As the world's Muslim population approaches the 2 billion mark, the global community must find a way to coexist with a religious tradition that has so far consciously resisted making peace with modernity. Finding a path forward will be no easy task considering that suspicion runs high on all sides.
In a lecture titled "Islam and the Future of Civilization," leading cultural studies scholar Anouar Majid, Ph.D., a professor and administrator from the University of New England (USA), will examine this important challenge facing the world community. The lecture will take place at the University of Helsinki on May 17, 2016 at 4 p.m.
The event is organized by The Embassy of the Kingdom of Morocco in Helsinki and the Department of World Cultures, University of Helsinki.
Majid will argue that Muslims and the world community must pursue the path of the Enlightenment, open the study of Islam to modern methods, and chart new ways to more liberal Muslim-majority societies, ones that allow individuals to experience their full humanity without the constraints of prohibitions, taboos and retributions. He will explain that while Muslims must accept the largest share of responsibility in making this shift, the Finns and peoples of other non-Muslim-majority nations cannot afford to be bystanders in the process of reform.
Majid serves as vice president for Global Affairs at UNE as well as founding director of its Center for Global Humanities and managing director of its campus in Tangier, Morocco. Described by Cornel West as one of today's "towering Islamic intellectuals," he frequently authors opinion pieces on this topic, and several of his books are required reading in many college cultural studies programs. Majid has appeared on Bill Moyers Journal, NPR, Al-Jazeera, and scores of other U.S. and international media channels.
About the University of New England
The University of New England is Maine's largest private university, an innovative educational community with two distinctive coastal Maine campuses, a vibrant new campus in Tangier, Morocco, and a robust offering of degree and certificate programs online. UNE attracts internationally recognized scholars in the health sciences, life sciences, business, education, the social sciences, and the humanities, allowing both our graduate and undergraduate students to engage in research and scholarship alongside dedicated faculty.
We are home to Maine's only medical and dental schools—part of our comprehensive health education mission built on a pioneering inter-professional approach that also includes pharmacy, nursing and an array of allied health professions. UNE offers a uniquely cosmopolitan, interdisciplinary academic environment with an emphasis on global engagement and hands-on learning experiences. As a community, we are committed to creating the future by nurturing well-rounded scholars and professionals who can adapt, prosper and lead in a rapidly evolving world.
UNE. Innovation for a healthier planet. Visit http://www.une.edu.