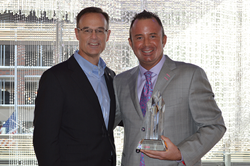 "We are so pleased to present the agency and its staff with this award during a milestone year and look forward to many decades of continued partnership with Waterstone." -- Frankenmuth Insurance President and COO Fred Edmond
Frankenmuth, MI (PRWEB) May 16, 2016
Frankenmuth Insurance named Waterstone Insurance Agency Inc. as its 2015 "Agency of the Year." The award is presented to one agency that is the top performer in profitability, growth and policy retention.
Waterstone Insurance Agency, located in Muskegon, Mich., has also been named a "Preferred Plus" Partner for 2016. This prestigious distinction is awarded to the top 5 percent of all 550 independent agencies representing the insurance company. This is the twelfth consecutive year the agency has been recognized as a Preferred Partner.
"2016 marks the 30th year Waterstone Insurance Agency has been a valued partner of Frankenmuth Insurance," says Frankenmuth Insurance President and COO Fred Edmond. "We are so pleased to present the agency and its staff with this award during a milestone year and look forward to many decades of continued partnership with Waterstone."
Waterstone Insurance Agency has been appointed with Frankenmuth Insurance since 1986.