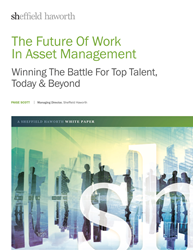 "We're not encouraging firms to try to mirror or morph into a tech startup—quite the opposite."
San Francisco, California (PRWEB) May 17, 2016
As asset management firms struggle to combat glitzy technology companies in the battle for emerging talent, a new white paper authored by Sheffield Haworth Managing Director Paige Scott offers a clear outline for winning over millennial talent as well as keeping the peace within a diverse, multi-generational staff.
The paper, "The Future Of Work In Asset Management," can be downloaded for free and without registration here.
A quick read at less than 10 pages, it provides insight into:

Challenges faced by asset management firms trying to attract new talent
The shifting values of today's workforce, especially millennials
6 tactics for evolving a firm's culture to be more inviting and inclusive
Why monetary incentives may not always generate the best results
How to accommodate all generations of employees
"As I make very clear in the paper, we're not encouraging firms to try to mirror or morph into a tech startup—quite the opposite," says Ms. Scott. "Instead, I outline concrete ways that firms can be more inclusive and diverse, which is something you won't find at most of today's startups."
Ms. Scott is Head of the North American Asset Management practice at Sheffield Haworth, splitting her time between the firm's San Francisco and New York offices. She is an active member of the Boston Club and 100 Women in Hedge Funds, and is a regular contributor of thought leadership for the European Institutional Investor Institute, the Global Fixed Income Institute and the European Institute.
About Sheffield Haworth
Sheffield Haworth is a global executive search, research and human resources consulting company serving the financial services, insurance and technology industries. With 12 offices worldwide, Sterling Haworth is widely acknowledged by clients as a leader and preferred partner in executive search and advisory with a track record of timely, successful placements. For more information, visit http://www.sheffieldhaworth.com.