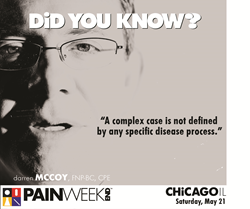 Great educational experience!
Montclair, NJ (PRWEB) May 16, 2016
PAINWeekEnd (PWE) Regional Conferences are now in their 6th year! Attendees have expressed: "Presentations were great and relevant," "Great educational experience," and "Speakers were excellent!" PWE Chicago, on May 21 at the Gleacher Center, 450 N. Cityfront Plaza Drive, will provide busy clinicians and allied healthcare practitioners with relevant, practical instruction in the management of chronic pain.
"The unproven mythos of opioid induced hyperalgesia has become the latest banner in the trendy crusade against prescribed opioids," says R. Norman Harden, MD, "to the ultimate detriment of our patients' rights and well-being." Dr. Harden is the Senior Associate Editor of Pain Medicine. The release of the new CDC Guidelines for Prescribing Opioids for Chronic Pain continues to engender debate among practitioners. Pain is a complex and fragmented area of clinical medicine, and the courses presented at PAINWeekEnd will touch upon these and other timely issues. Dr. Harden continues, "Our research indicates that all patients with severe chronic pain develop these sensitization phenomena, but that it is no worse in patients on opioids." He is Lead Consultant, Analgesic Research Consultants LLC, and Professor emeritus at Northwestern University.
The license cycle for Illinois is every 3 years; the licensee must complete 150 hours of CME credit that will include a minimum of 60 hours of CME credit earned through formal CME programs and no more than 90 hours of CME credit earned through informal programs or activities. By attending PAINWeekEnd Chicago, participants can receive 6.0 CE/CME credit hours as they enhance their skills in medication risk evaluation and mitigation, pain assessment and diagnosis, and delivery of individualized multimodal treatment. Course topics include the complex pain patient; cost containment; patient centered urine drug testing; pain pathophysiology unraveled; addressing irresponsibe prescribing through universal precautions; and clinical pearls to improve common diagnostic tests for pain: pain diagnostic methods. In addition, there will be commercially supported activities addressing a range of product, disease state, and medical information topics.
To see the complete agenda and more information about this or other PAINWeekEnd Regional Conference, go to painweekend.org.
The online registration fee for this PAINWeekEnd Conference is $129. PAINWeekEnd registrants are further offered the opportunity to register for the 2016 PAINWeek National Conference, September 6-10, in Las Vegas, for $199 off the current online published price.
PAINWeekEnd is provided by Global Education Group.