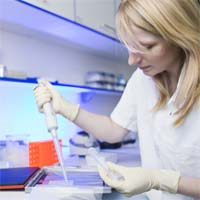 The immune cell composition of pleural effusion does not automatically reflect the properties of tumor tissue.
Raleigh, NC (PRWEB) May 14, 2016
Scientists in The Netherlands compared the immunological profiles of lung fluid samples and tumor biopsies from mesothelioma patients and found that the two don't always match. The news has important implications for mesothelioma patients undergoing immunotherapy treatment. Click here to read the full story just posted on the Surviving Mesothelioma website.
Doctors at Erasmus MC Cancer Institute compared the profiles of cells taken from lung fluid (pleural effusion) and tumors of pleural mesothelioma patients and found discrepancies that suggest lung fluid may not be the best tool for planning highly-individualized immunotherapy.
"The immune cell composition of pleural effusion does not automatically reflect the properties of tumor tissue," writes pulmonologist Lysanne Lievense in the journal Lung Cancer. "This has major consequences when applying precision immunotherapy based on pleural effusion findings in patients."
The researchers found that the differences in the number and types of immune system cells identified in the two types of samples became even greater after patients underwent treatment.
"Immunotherapy holds great promise for the treatment of mesothelioma and other cancers, but, as this study indicates, the medical community is still refining how best to use it to improve mesothelioma survival," says Alex Strauss, Managing Editor of Surviving Mesothelioma.
For a complete explanation of immunotherapy and the findings of the new study, see Limitations of Lung Fluid in Mesothelioma Immunotherapy Planning, now available on the Surviving Mesothelioma website.
Lievense, LA, et al, "Precision immunotherapy; dynamics in the cellular profile of pleural effusions in malignant mesothelioma patients", April 27, 2016, Lung Cancer, Epub ahead of print, http://www.sciencedirect.com/science/article/pii/S0169500216302963
For nearly ten years, Surviving Mesothelioma has brought readers the most important and ground-breaking news on the causes, diagnosis and treatment of mesothelioma. All Surviving Mesothelioma news is gathered and reported directly from the peer-reviewed medical literature. Written for patients and their loved ones, Surviving Mesothelioma news helps families make more informed decisions.