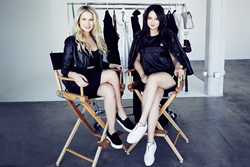 Beverly Hills, CA (PRWEB) May 16, 2016
The most highly-anticipated fashion site launching today, May 13th 2016, Lab No.25, curates top US and European fashion designers aimed at the 21 to 35-year-old demographic. Lab No.25, founded by best friends Ruta Labrence (left) and Anda Auksmukste (right), has successfully raised more than half of a million dollars solely via private investors to launch the most innovative ecommerce site of its kind.
Lab No.25 is the only e-commerce website to exclusively feature behind-the-scenes videos exhibiting how fashion pieces are chosen - which you can buy - and what goes on during fashion shoots.
Anda and Ruta, both under the age of 25, created Lab No.25 as the perfect platform to showcase a mix of established and emerging premium brands, with styles that are hand-selected by the two women to create a curated and international marketplace. Their vision is for up-and-comers with impeccable taste to shop top brands in an atmosphere comparable to high-end luxury retailers, bridging the gap between brands and customers excited to find the newest fashions at a fair price which starts from $195.
Lab No.25 is making both American and European designers more accessible to the US Market which Ruta & Anda are finding at the world's best Fashion Weeks. AQ/AQ, David Lerner, Etienne Marcel, Groceries Apparel, Hotel Particulier, Luana Italy, LUV AJ, Pinko, Pared Eyewear, Marna Ro, MUUBAA London, Rachel Zoe, Stella and Jamie, Stone Cold Fox, Siwy Denim and Leanne Marshall are just a handful of the cutting edge fashion forward designers to pact with what is certain to become the destination for the millennial who wants to make a splash whenever they walk in the room.
"Lab No. 25 is a destination for ambitious, stylish and modern women who don't want a high-end price tag. We combine casual and sophisticated style into looks that easily go from day-to-night. To me, fashion is empowering, and we want women to confidently experiment with their style. Our store is very visual so that our clients are inspired as they shop" said Ruta Labrence.
"Lab No. 25 was inspired when we noticed up-and-coming designers didn't have a platform to present their quality designs. We have created a digital space to offer clients hand-picked items and fashion inspiration in a new way" explained Anda Auksmukste.
You will get a sense of LabNo25's unique vision by watching this video link: https://www.youtube.com/watch?v=Q1GKy_Tp_kQ&feature=youtu.be
For further information please contact Monique Moss: monique(at)integrated-pr(dot)com and Zuzana Korda: zuzana(at)integrated-pr(dot)com Tel: 310 858 8230.