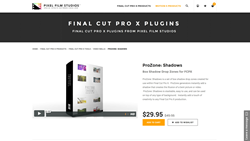 With intuitive controls this plugin will help improve your videos
Aliso Viejo, California (PRWEB) May 15, 2016
"With intuitive controls this plugin will help improve your videos," said Christina Austin - CEO of Pixel Film Studios.
ProZone Shadows is a set of box shadow drop zones created for use within Final Cut Pro X. ProZone generators instantly add a shadow that creates the illusion of a bent picture or video. ProZone Shadows is stackable, easy to use, and can be used on top of any type of background. Instantly add a touch of creativity to any Final Cut Pro X production.
ProZone Shadows is a set of drop zone generators with box shadow stylization. Users can instantly add a rounded or curved look to pictures and videos with ProZone Shadow presets. Easily choose from one sided shadow or two sided shadow styles with drag and drop ease.
Use the ProZone gradient included in each preset or turn off the background and palce ProZone Shadows over personal pictures or video files. Display media over patterns such as wood, walls, or even concrete. The options are endless with ProZone Shadows from Pixel Film Studios.
Use a single ProZone display personal media or create an entire grid of box shadow drop zones with ProZone's intuitive generators. Easily scale, position, and animate ProZone with controls that can be found in the inspector menu.
With ProZone Shadow's 3-point camera system. Users can determine the start, mid, and end position of ProZone drop zones. Animating is easy with ProZone. First, move the FCPX playhead to the first frame of the generator and tweak the "start position" controls to determine the starting position. Next, use the "mid position" controls to determine where ProZone will stay momentarily. Lastly, move the playhead to the last frame and adjust the "end position" controls.
Established in 2006, Aliso Viejo, California-based Pixel Film Studios is an innovative developer of visual effects tools for the post-production and broadcast community. Their products are integrated with popular non-linear editing and compositing products from Apple FCPX. Apple, the Apple logo, Mac OS X, and Macintosh are registered trademarks of Apple Inc. in the U.S. and/or other countries. All other trademarks and trade names are the property of their respective owners.