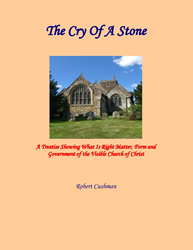 Hopefully, more academic study will follow the publication of this important and rare treatise," said GSMD Governor General Lea Sinclair Filson. "It sheds new light on the Mayflower Pilgrim Separatists.
Plymouth, MA (PRWEB) May 17, 2016
Revealing new information on the Mayflower Pilgrim Separatists, 'The Cry of a Stone' by Robert Cushman, has been published by the General Society of Mayflower Descendants.
Robert Cushman, a leader in the Pilgrim Separatist group, wrote the pamphlet a few months before the Mayflower sailed in 1620, but it was not published in England until 1642, well after his death and under the name Coachman. Because of the variation in his name, it wasn't identified as a Pilgrim writing until the mid-twentieth century.
Cushman was a leader in the Mayflower Pilgrim congregation, and coordinated the trip to America and the plan for the New England settlement. In The Cry of a Stone, he wrote in a clear and concise manner the reasons why the Leiden Pilgrims separated from the Church of England. The treatise sheds new light on how tolerant the moderate Mayflower Pilgrims were compared to other radical and strict Separatist movements.
"The Separatists knew that their beliefs would conflict with other people's consciences and they did not force anyone to conform," said noted Pilgrim historian James W. Baker, transcriber and annotator of the book. "For that they deserve our admiration and understanding, not intolerance for failing to meet twenty-first century standards."
Cushman was unable to sail on the Mayflower because of illness, but in 1621, traveled to America on the Fortune with his son Thomas. A few years later he returned to London and died in 1625, probably of the plague.
"Publishing The Cry of a Stone in partnership with its Editor, Michael R. Paulick, fulfills GSMD's education mission that encourages bringing new scholarship to the study of the Pilgrim Separatists," said Lea Sinclair Filson, GSMD Governor General. "Hopefully, more academic study and review will follow the publication of this important and rare treatise."
To Purchase the Book:
Title: The Cry of a Stone: A Treatise Showing What is Right Matter, Form and Government of the Visible Church of Christ
Author: Robert Cushman; transcribed and annotated by James W. Baker
Cost: $30; discounted editions available to GSMD members and libraries
Online Orders: Visit TheMayflowerSociety.org (Shop – Pilgrim Books)
Phone Orders: 508.746.5058
###
About The Mayflower Society
Founded in 1897, The Mayflower Society, or General Society of Mayflower Descendants (GSMD), is a 501(c)(3) non-profit organization with national headquarters in Plymouth, Massachusetts. Membership requires proof of lineage from one of the passengers who travelled to America on the Mayflower in 1620. Its mission includes education about the Mayflower Pilgrims and maintaining the gold standard of lineage review through its research and publications. The Society publishes the Mayflower Families Silver Books, Mayflower Journal, and other Pilgrim related materials. It operates a genealogical research library at its Plymouth headquarters and offers tours of the historic Mayflower Society House. Website: http://www.TheMayflowerSociety.org
Facebook: facebook.com/TheMayflowerSociety, Twitter: twitter.com/gsmd,
Instagram: instagram.com/TheMayflowerSociety, YouTube.com: youtube.com/user/MayflowerSociety