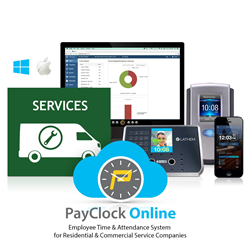 "I can even do payroll if I'm out of the state and export for payroll all employee time and attendance records easily into QuickBooks," said Karina Cisneros of Top Cut Lawn Service
Atlanta, GA (PRWEB) May 16, 2016
Top Cut Lawn Care, Midwest Basements and MID-FLA Heating and Air have switched to Lathem's cloud-based PayClock® Online to administer payroll anytime, anywhere and better manage their workforce, saving time and money.
Karina Cisneros, office manager of Texas-based Top Cut Lawn Service, upgraded from Lathem's desktop software to PayClock Online about two years ago, so she'd have the flexibility to administer payroll when she's not in the office.
"I can log in from anywhere and check employee time card data," she said. "I can even do payroll if I'm out of the state and export for payroll all employee time and attendance records easily into QuickBooks."
Top Cut's employees clock in with Lathem's face recognition time clock FaceIN® that integrates with PayClock Online. The FaceIN biometric time clock eliminates the possibility of buddy punching and allows employees to clock-in/out without having to touch the clock, reducing the spread of any germs.
Des Moines, Iowa-based Midwest Basement Systems also used Lathem's desktop time & attendance software with a FaceIN time clock. When the company went paperless and upgraded its office systems to the cloud a few years ago, they also deployed PayClock Online. The system lets them view employee time records across three locations in real time, and makes it easy to fix errors in time records.
"Employees clock in and out with the face recognition time clock and managers can see the information on the PayClock Online portal and make changes as necessary. It's made our job easier," said Jonathan Bishop, controller.
MID-FLA Heating & Air in Gainesville, Fla., uses PayClock Online with Lathem's PC600 touchscreen and proximity badge reader time clock. MID-FLA Heating & Air's accounting assistant, Christopher Edwards, likes that PayClock Online lets him access employee time and attendance data at anytime on his computer.
"Before PayClock Online, someone would need to physically bring the timesheets to our office once a week," said Edwards, "Now we can access reports online in real time and employees can access their own time records, which frees me up to do other business tasks."
Other service companies switching to Lathem's cloud time and attendance can be found here.
About PayClock Online
PayClock Online is a cloud-based solution that enables businesses to manage employee time and attendance anytime, anywhere with an Internet connection. This web-based employee timekeeping system allows managers to quickly process payroll on their own time, when it is most convenient for them. Mobile functionality lets managers track employees' hours or administer payroll from their own mobile devices. It's easy to set up employees to clock in and out from their computers, mobile devices, and even Lathem time clocks, enabling them to view their own time records and paid time off information on the web without supervisor assistance. PayClock Online easily integrates with popular payroll software systems like QuickBooks, Paychex, ADP and more.
About Lathem
Headquartered in Atlanta, Georgia, Lathem is the leading provider of durable and affordable timekeeping products for business. Since 1919, Lathem remains a family-owned and operated US manufacturer. More than 1 million organizations worldwide use a Lathem solution every day to help manage their business, including commercial wall clocks, time stamps, mechanical and biometric employee time clocks, and Lathem's PayClock Online time & attendance system.