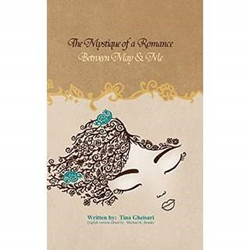 Pearl interrupted the unknown voice and said, "I think I have free will which is surrounded by the limitation of your love."
Haymarket, Virginia (PRWEB) May 20, 2016
In a unique collaboration crossing the globe, Tina Gheisari and Michael Bender are debuting an inspirational novel "The Mystique of a Romance Between May and Me," (appropriate for all ages) on Amazon.com. Michael Bender (editor) said, "Tina has managed to give all of us an opportunity to gain an understanding of the beauty of motherhood and mothers, our freedom to choose, the Eastern philosophy of love, and the spiritual being who protects us all. For those of us who are not mothers, Tina's book gives us a greater appreciation for our own mothers and our roles in the world in which we live. All through following the life of a pearl!"
"The first word you must learn is "love" because this is the essence of me; the glittering flames from within the Creation has been started…After that I created a generous protector from the same species to ensure their survival. I called this support 'Mother.'…Then Shell, the Mother spoke up and said, 'Ah yes! You should promise not to forget this enamored love wherever you go, and whatever you become. 'I promise, mother; I do, Pearl answered!"
Tina Gheisari's book, "The Mystique of a Romance Between May and Me," which was originally written in Farsi, follows the life and rebirth of a pearl, in a beautiful, spiritual, and romantic novel. It describes motherhood in a profound and moving way, and includes thoughtful reflections on our choices in life, the meaning of life and death, how music is a universal language, the true meaning of childhood and even the mystery of sleep.
Tina Gheisari, the author, is an English teacher, coach, and translator whose native language is Farsi. She is the loving and caring mother of two grown children, a daughter and a son, Hanieh and Hossein, who were the source of the inspiration for her novel. She believes that children are truly the fruits of their mother's labor and that we all must remember our mothers in our thoughts and prayers. By sharing her insightful concepts with her readers, Tina keeps the flames in her heart alive. Tina currently lives in Shiraz, Iran and has a TESOL degree with successful experience teaching general English to IT and high school students. She also worked as a manager of Reiki/Yoga in the United Arab Emirates.
Michael Bender, the U.S.-based editor who also wrote the Dedication and Introduction, said that Tina wanted to produce her inspirational book in English but was concerned about translating Persian sentiments about family into the context of a literal American framework in a way that readers would be inspired about the beauty of motherhood, life and the choices we all face as we proceed with our lives, no matter where we live in the world.
Despite the physical separation of our lives, Michael not only captured the essence of my message, but clearly connected to my thoughts and philosophy as if they were his own," Tina said. As a consequence, Tina asked Michael to write the Dedication and Introduction to her inspiring novel so his connection to the message was also conveyed to the reader.
Michael Bender is an American Language Skills Consultant working, since 2009, with First and Second Language English learners from grades one through adult in after school enrichment programs at Study Concepts Inc. (Ashburn and Chantilly, Virginia), Metropolitan Academy (McLean, Virginia), and individual American and foreign students and professionals. He recently joined the GIPEC Education Group based in Shanghai, China and Rockville, Maryland as Director of SAT Program for online and one-on-one test preparation. He has been a guest speaker at Virginia International University and the World Bank on topics relating to Culture and Language. He has traveled to more than 50 countries as an international executive, U.S. Foreign Service Commercial Officer, and on behalf of Project Hope, a non-profit organization which sought to establish a children's hospital in a devastated part of the Middle East.
Michael has lived in the Middle East, Africa, Europe and Asia. After turning to teaching and coaching, he created and published unique visual vocabulary writing and reading comprehension plans and visual flash cards to facilitate learning of English skills. Michael said that he is looking forward to an even closer collaboration with Tina on the sequel to "The Mystique of a Romance Between May and Me," and working with writers from other parts of the world who have unique, story based inspirational messages.