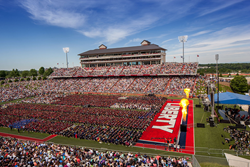 Lynchburg, Va. (PRWEB) May 14, 2016
Pyrotechnic flame projectors positioned around the stage shot bursts of fire into the air at Williams Stadium Saturday morning, a physical picture of the inspiration kindled within Liberty University's largest graduating class to date: the Class of 2016, 19,430 graduates strong. (View images and a video of the full service on Liberty's website.)
The literal flames (typically used at football games) surprised the approximately 35,000 guests during the keynote address from New York Giants running back and Liberty alumnus Rashad Jennings ('09). Prior to Jennings' address, a string of surprise celebrity guests took the stage, challenging the graduates to make their marks on the world. Guests included Willie Robertson from A&E's "Duck Dynasty," as well as writer/director Randall Wallace ("Braveheart," "We Were Soldiers," "Heaven is for Real"), a native of Lynchburg. Wallace spoke about an upcoming project, "Hacksaw Ridge," a faith-based World War II biopic about the life of another Lynchburg legend, Desmond T. Doss, a Congressional Medal of Honor war medic. Wallace then unveiled another surprise as he brought to the stage two co-laborers on the film: actor/director/producer Mel Gibson and Vince Vaughn, one of the film's stars.
All three men talked about the power of Doss' story and how impressed they are with Liberty, showing their appreciation for President Jerry Falwell and his family.
Gibson also mentioned that he is planning a sequel to one of the most iconic Christian films ever made, "The Passion of the Christ." The upcoming film will be about the Savior's resurrection.
As creators and portrayers of stories, Wallace, Vaughn, and Gibson charged the graduates to inspire others with stories from their own lives.
President Falwell used part of his address to honor the nation's heroes — men and women who are serving or have served in the military as well as military spouses — and thank them for their sacrifice in preserving the freedoms Americans enjoy.
Over 5,800 Liberty graduates have military ties, nearly 1,400 of whom are on active duty. Liberty held a special ceremony to honor these graduates on Friday night.
As he saluted service members, Falwell recognized several veterans, including his uncle, Gene Falwell, the twin brother of Liberty's founder Dr. Jerry Falwell. Falwell also thanked Purple Heart veteran Tim Lee, who spoke at Liberty's Baccalaureate Service Friday night, for being a hero and an evangelist who has impacted millions with the Gospel through his powerful testimony. Lee is a longtime Liberty Board of Trustees member.
Another veteran with Liberty ties was World War II veteran and former POW George Rogers, who worked from 1974-99 as the university's Chief Financial Officer. In recognition of Rogers' service, Falwell presented him with an honorary Doctor of Business degree.
Five empty chairs draped in regalia served as a memorial to five individuals awarded posthumous degrees.
Two more honorary doctorates were presented to alumni who have demonstrated excellence in their respective careers: Penny Young Nance ('88), president and CEO of Concerned Women for America, was recognized with an honorary Doctor of Humanities degree and Dean Parker ('97), a successful entrepreneur and corporate executive, was awarded an honorary Doctor of Business degree.
Falwell also awarded Jennings an honorary Doctor of Humanities degree, recognizing Jennings' leadership "both on the athletic field and through his philanthropic endeavors."
At 31, Jennings, who only seven years ago celebrated his own graduation, is the youngest Commencement speaker in Liberty's history. He is also a native of the Lynchburg area. It was symbolic of how far Jennings has come that he spoke to 2016 graduates from just beyond an end zone in the same stadium where he holds the touchdown record (read more about Jennings' accomplishments).
Jennings charged graduates to take their degrees and make them count for the Kingdom of God. He talked about how he had been inspired by Liberty's founder, the late Dr. Falwell, who envisioned Liberty as a world-class university in both its academic and athletic offerings.
Jennings noted that although frivolous pursuits and moral compromise saturate culture, he has sought to go against the grain and "refused to compromise" his moral and spiritual integrity while in one of the most influential cities in America.
Jennings used pyrotechnics throughout his message to illustrate burning away the distractions from life and the glowing flames of a life lived with dynamic faith.
"God delights in taking ordinary people and doing extraordinary things through them. Will you be one of those people?" he asked the graduates assembled on the field where he rushed for 3,633 yards and a career-high 42 touchdowns for the Flames. "I'm not supposed to be here, by any stretch of the imagination. Being a little short kid, overweight, 0.6 GPA in high school, 275-pound fifth-string running back with asthma. But one thing I know for sure. When God has your back, you can dream crazy big."
He said graduates may have to endure fiery trials in life. But if they persevere, and have a dynamic faith in God, they will be refined rather than destroyed by those flames.
"We are the salt of the earth," Jennings said. "Congratulations to the graduating Class of 2016. Go set this world on fire."
To close his presentation, Jennings came down from the stage and threw an autographed football into the pool of graduates before breaking into his signature touchdown celebration.
> Video highlights of the service are available for free download:
https://share.liberty.edu
Username: media
Password: yLITd34245
> Download photos for free (please credit Liberty University):
Password: 20160514
About Liberty University
Liberty University, founded in 1971, is the largest private, nonprofit university in the nation, the largest university in Virginia, and the largest Christian university in the world. Located near the Blue Ridge Mountains on more than 7,000 acres in Lynchburg, Va., Liberty offers more than 500 unique programs of study from the certificate to the doctoral level. More than 200 programs are offered online. Liberty's mission is to train Champions for Christ with the values, knowledge, and skills essential for impacting tomorrow's world.