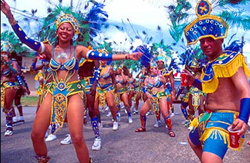 There's nothing like sharing a sense of discovery to bring people together.
San Ignacio, Belize (PRWEB) May 16, 2016
As summer approaches, The Lodge at Chaa Creek is advising travelers to stay tuned for a June announcement of a new initiative that can turn a summer vacation into a unique learning adventure for people of all ages.
Lucy Fleming, Chaa Creek co-owner and co-founder of the Belize Natural History Centre, said that the Belizean eco resort will be kicking off a "cultural extravaganza" designed to introduce visitors to Belize's famously harmonious multicultural society while exploring the various ethnic groups that make up the tiny country's richly diverse melting pot.
"Over the years, we've realised that, in addition to the stunning scenery, lovely weather and wealth of things to do, our visitors are struck by the number of distinct cultures that make up Belizean society. Although English is the primary language, guests hear Mayan, Spanish, Garifuna, Creole, Asian dialects and even Mennonite German on a daily basis, and they become curious about how Belize attracted so many different ethnic groups.
"We decided to make it easy and interesting for visitors to explore Belize's various cultures and to see how they blended together to create the foundation of present day Belize," Ms. Fleming said.
One aspect of Chaa Creek's cultural exposition will be the launch of a new initiative, the Belize Travel University, or BTU, a project designed to allow guests to include a cultural learning adventure as part of their holiday, Ms. Fleming said.
"We're very excited about the BTU, and our educational committee is currently finalizing details, materials and everything else involved in offering an easy, comprehensive, educational experience that will be as enjoyable as it is educational," she said, adding that the BTU will be a hands-on, experiential learning adventure of interest to people of all ages and backgrounds.
Families, couples, groups and individuals will all be invited to take part, and the organizers are paying particular attention to activities that all participants can enjoy together.
"There's nothing like sharing a sense of discovery to bring people together. We're looking to involve families, couples and individuals interested in meeting new friends while learning about Belize's different cultures in fun, interactive ways," she said.
"Education has always been an important component to the responsible travel philosophy Chaa Creek promotes," Ms. Fleming added.
Chaa Creek's Belize Travel University is one aspect of the Belize eco resort's summer cultural extravaganza, which will include a Maya Summer Solstice observation on June 20, 2016, and a range of other initiatives and activities.
"We'll be announcing more details soon, but our guests can rest assured that they'll have stimulating stories to tell when they return home, and school reports such as, 'How I spent my summer vacation' are about to become more interesting.
"For right now, we're encouraging people to stay tuned," Ms. Fleming said.
The Lodge at Chaa Creek is a multi-award winning eco resort set within a 400-acre private nature reserve along the banks of the Macal River in Belize.