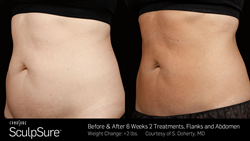 SculpSure® is now the go-to treatment for people who are struggling to remove pockets of fat from areas such as abdomen, flanks, and other 'trouble' body areas
Philadelphia, PA (PRWEB) May 17, 2016
Ringpfeil Advanced Dermatology is the first dermatology center in the Philadelphia area to offer the revolutionary SculpSure®. "We are thrilled to offer our patients the newest and most effective non-invasive procedure available today for fat removal. SculpSure® is now the go-to treatment for people who are struggling to remove pockets of fat from areas such as abdomen, flanks, and other 'trouble' body areas," says Dr. Franziska Ringpfeil, board certified dermatologist and the founder of Ringpfeil Advanced Dermatology.
Click here for more information about the SculpSure® procedure that is now available in Philadelphia.
SculpSure® is designed to destroy up to 25% of fat cells in a targeted area in a 25-minute procedure, during which customers experience minimum or no discomfort. The device uses laser beams that travel through the skin to target and destroy fat cells while making use of special cooling plates to protect the skin from the heat generated by the beams. As a result, the skin suffers no damage, and the customer can return to normal activity immediately after the short treatment.
Ringpfeil Advanced Dermatology offers free phone consultation. People who are interested in SculpSure®, including pricing and number of expected treatments can book a free phone consultation by clicking here.
Otherwise, call the practice at 610-525-5250 to book a treatment or a free in-office consultation.
Ringpfeil Advanced Dermatology provides premium general dermatology, cosmetic dermatology, dermatological and laser surgery to the Philadelphia, Main Line, and Delaware Valley area. The practice was founded by Franziska Ringpfeil, MD, a board certified dermatologist with training in both the US and Germany as well as national and international recognition through lectures, peer-reviewed articles and many book chapters. She is assistant professor at Jefferson Medical College and the recipient of the prestigious Young Investigator Award by the American Academy of Dermatology. Her practice provides uncompromised quality of care through experience, technology, and focus on patient satisfaction.