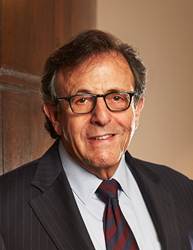 The impressive depth and experience that Arvin Pearlman brings with his railroader injury work further enhances the services Sommers Schwartz provides.
SOUTHFIELD, MI (PRWEB) May 26, 2016
Sommers Schwartz P.C., a leading contingency based litigation law firm, is pleased to announce that seasoned railroad injury trial lawyer Arvin J. Pearlman is now Of Counsel.
Since 1979, Mr. Pearlman has concentrated his practice on pursuing the rights of railroad workers who are injured or killed in the course of their employment and is well known for the successful outcomes he has obtained under the Federal Employers Liability Act (FELA). He serves as designated legal counsel for the Brotherhood of Railroad Signalmen in Michigan and is involved with Michigan Local 2051 of the Transport Workers Union of America as well as the American Association for Justice, the Michigan Association for Justice, and the Academy of Rail Labor Attorneys. Highly regarded by his fellow lawyers, Mr. Pearlman has been recognized as an AV Preeminent Lawyer, the highest peer review rating granted by Martindale-Hubbell.
FELA cases arise from instances of workplace negligence including unsafe work environments, exposure to harmful substances and occupational illness, faulty equipment, and off-site injuries. Unlike other types of negligence lawsuits, however, FELA cases fall exclusively under federal law.
Also joining the firm is Benjamin J. Wilensky, an associate in the FELA practice group who brings additional litigation experience in professional malpractice, products liability, governmental liability, civil rights, RICO, and fraud litigation. Mr. Wilensky has been admitted to practice since 2010 and was named a Michigan Super Lawyers Rising Star by his peers in 2015.
"The firm's reputation for successfully handling medical malpractice, birth injury, defective devices, and other types of personal injury litigation is already strong," said Joseph H. Bourgon, Sommers Schwartz's Chief Executive Officer. "The impressive depth and experience that Arvin brings with his railroader injury work further enhance the services we can provide. We are excited to have him and Ben join our team of accomplished lawyers."
______________________________________________
Sommers Schwartz, P.C., a law firm located in Southfield, Michigan, represents individuals in Michigan and across the country who have been harmed as a result of medical errors, defective products, loss of employment, and other forms of negligence or intentional injury, as well as businesses involved in complex litigation matters that jeopardize their existence. Additional information about Sommers Schwartz can be found on its website: http://www.sommerspc.com.