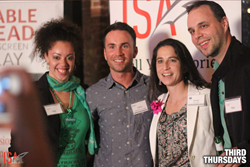 ...we're moving in a positive direction toward providing writers and filmmakers with what they truly need...
Los Angeles, CA (PRWEB) May 17, 2016
The International Screenwriters' Association (ISA), a leading screenwriting resource on the web, is expanding their monthly Los Angeles Third Thursdays social event by introducing a quarterly Panel Series on May 19, 2016 at Busby's East in Los Angeles. The inaugural May discussion will draw attention to the major writing fellowships and programs leading the film industry in Hollywood. The top tier industry representatives will be sharing their wisdom, advice, and insights to the writing community at large.
The panel will feature Heather Washington, Manager of Universal Pictures' Emerging Writers Fellowship; Karen Kirkland, V.P. of Talent Development and Outreach for Nickelodeon Group and oversees the Nickelodeon Writing Program; Max Timm, Director of Community Outreach at the ISA and co-manager of the ISA Fast Track Fellowship; and Joan Wai, Program Manager of the esteemed Academy Nicholl Fellowships in Screenwriting, the Academy of Motion Picture Arts and Sciences' international screenwriting competition.
The May 19 panel will be moderated by Thom Geier, Deputy Managing Editor of TheWrap. The Wrap News Inc. is the leading digital news organization covering the business of entertainment and media.
When asked what this expansion means in terms of the entertainment industry at large, Timm said, "The world has moved past just the basic 'information age.' Now screenwriters especially need to have a go-to, a one-stop-shop for all of this content and information. By providing the monthly Third Thursdays, and now the ISA's Panel Series, we're moving in a positive direction toward organizing industry resources and providing writers and filmmakers with what they truly need; knowledge and education. And it doesn't hurt that there's a social, family-like atmosphere here."
After nine years, the ISA continues to be what industry organizations have dubbed, "A must-bookmark website," as said by Script Pipeline's Director of Development, Matt Misetich, also a frequenter of monthly Los Angeles Third Thursdays. The ISA has expanded their reach beyond the virtual world by launching their Third Thursdays social event in July 2014 in Los Angeles and London in August 2015 with further expansion underway. The socials have exploded into the go-to screenwriters' networking event. Riding that wave, the association is doing what they do best - providing even more resources for writers and filmmakers.
The May 19 panel will last 90 minutes and will be followed immediately by the ISA's Third Thursdays - L.A. mixer which will run until 11:00 PM. They will be celebrating their current ISA Fast Track Fellowship writers and giving out 10 complimentary entries to the next round of Fast Track.
For further information about this event, visit – http://www.networkisa.org/event.php?id=656
About the ISA:
The ISA is dedicated to providing a one-stop shop for all creative needs. The ISA network is a wealth of helpful information from classes, to podcasts, to pro industry tips and tricks, while the Development Program is proving to be a valuable bridge for screenwriters and executives. The program has propelled the careers of emerging writers whom they have nurtured, resulting in six-figure production deals. The ISA additionally provides an outlet for film and TV producers to seek and discover new talent. Join the ISA community at http://www.NetworkISA.org, TW/IG: @NetworkISA FB: /NetworkISA
For further press information, please contact:
Molly Kasch, Director of Operations - E: Molly(at)NetworkISA(dot)org