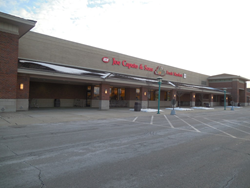 Chicago, IL (PRWEB) May 17, 2016
Heath Industrial announced that it will be offering the equipment and fixtures of Joe Caputo & Son, Inc. at two auctions, May 24th and 25th, 2016.
"Our upcoming auctions represent a tremendous buying opportunity for companies looking to acquire late model bakery, meat processing and refrigeration equipment, as well as general store fixtures. The former Dominick's store in Elk Grove Village, Illinois specifically saw numerous significant upgrades before it opened in November 2015" says David Heath, President of Heath.
Highlights of both sales include bakery departments, meat processing, display cases, walk-in coolers, gondola shelving and much more.
The first sale, on May 24th, will be a live sale being conducted in Elk Grove Village, Illinois. The sale will be simulcast live over the internet, where bidders can participate worldwide in real time on http://www.bidspotter.com
The second sale, featuring assets from the Arlington Heights, Illinois and Des Plaines, Illinois stores will be an online only sale, with bidding also taking place on http://www.bidspotter.com.
To learn more about this sale, view the complete lot catalog, or schedule an inspection, please visit http://www.heathindustrial.com
For more information, please contact Thomas Mowery by calling 847-380-1755 or reach us via email.
About Heath Industrial
The principals of Heath Industrial have been buying, selling and appraising industrial assets since 1984. From a single piece of equipment to an entire facility, Heath Industrial excels in asset liquidation by providing decades of experience and integrity, and always, a professional dedication to each and every project.