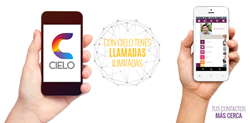 Costa Rica (PRWEB) May 16, 2016
Itellum, a Costa Rica-based, privately owned and operated international telecommunications, Internet and technology company with a focus on US and Central American markets, announces that its Cielo unified communications application has surpassed 12,000 registered users in Costa Rica, making it the leading and fastest growing application of its kind in that country.
Itellum, which is a locally-licensed internet and telephone operator that owns the Cielo application and infrastructure, has taken a unique approach by incorporating features not found in competing apps, such as secure voice capabilities, video calling, and a variety of international calling options. These attributes give Cielo the power and functionality of a true unified communications program. In addition, Itellum has launched the first and only unlimited calling options available to the Costa Rican community. Most impressive, Itellum is offering Cielo at significantly more competitive rates than those of alternative telecommunications providers in Costa Rica.
According to Tim Foss, CEO and co-founder of Itellum, "Cielo is much more than a calling app. It is the first truly 'unified communications' mobile social networking portal that connects users in Costa Rica to the rest of the world. Cielo is the only telecom application platform that seamlessly integrates web services, an encrypted chat function, group communications with file sharing capabilities and videoconferencing, as well as the first and only unlimited calling plans offered locally." Foss added, "Whether users want to make local calls to Costa Rica landlines or cell phones, or to Nicaragua, Cuba, Venezuela, Guatemala, El Salvador, Honduras or other international countries, Cielo is the only app they'll need in order to save money over other calling plans available on the market." The Cielo app can be downloaded at this link: http://www.cieloapp.net.
Cielo allows users to keep in touch and securely exchange information such as photographs, and make HD voice and video calls with a robust voice mail and messaging system for free with friends, family and other Cielo users on cellular networks while being connected to the Internet. The Cielo application allows users to leverage its innovative platform for international calls at the lowest price with the best call quality and clarity—allowing users to make long distance calls to all countries and destinations with the best international rates available.
Market-Leading Offerings
Itellum is currently offering the following three market-leading Cielo unlimited plans:

"Costa Rica Unlimited" for 15,000 Costa Rican (CRC)/month or $29.99 MRC;
"USA and Canada Unlimited" for 5,000 Costa Rican (CRC)/month or $9.99 MRC;
"Costa Rica, USA and Canada Everything Unlimited" for 20,000 Costa Rican (CRC)/month or $39.99 MRC.
Preregister and Port NOW—And Start Saving
To simplify calling, users can get their own local Cost Rica telephone number. Foss recommends that "Users pre-register their existing telephone numbers with Itellum, so that they can immediately port as 'number portability' begins. Once they become Cielo or Itellum customers, they'll never see overpriced telephone bills again."
Itellum Expansion Plans
Itellum is developing a best-of breed portfolio of products that have disrupted the Costa Rica market by earning high regard from users while developing strong local ties to public and private organizations. Itellum's organic expansion plans include extending its footprint with a planned incumbent presence in other Central American countries and, in the medium term, expansion throughout South America and Baltic regions. Itellum is seeking and presently securing relationships with both operational and financial partners in order to more efficiently leverage and realize its opportunities. For information, contact info@itellum.com.
About Itellum, LLC
Itellum, LLC is a Costa Rica-based, privately owned and operated international wholesale and retail telecommunications company with a focus on US and Central American markets. Itellum is a portfolio company of MB Technology Holdings, LLC ("MBTH"), a technology holding and service company that leverages the considerable experience that its executive team has amassed in creating the financial structures and organizational frameworks necessary for success. MBTH's directors include: Rick Mooers and Roger Branton, whose backgrounds include substantial merchant banking, corporate finance, and start-up operational experience; George Schmitt, renowned wireless industry executive and member of the Wireless Industry Hall of Fame; Mats Wennberg, long-time IT industry executive and previous Managing Director at Microsoft, Nordic Region and Jack Grubman, a telecom and technology industry veteran.
Itellum is a fully licensed incumbent carrier in Costa Rica, where it has the ability to profitably offer market-leading prices for voice and internet services. Itellum is employing advanced smart radio technology to offer voice and data connectivity to underserved and hard-to-reach markets using free national and regional wireless spectrum. Part of Itellum's local growth will be facilitated by an enhanced retail presence. An additional new business line involves the installation of fiber and wireless. Itellum's suppliers and customers include TATA, IDT, Level 3, and many others. The Cielo app can be downloaded at http://www.cieloapp.net. For further information, please visit http://www.itellum.cr.