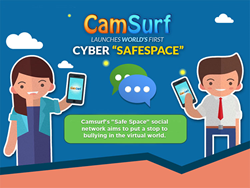 Since launching Safe Space, we have received a huge amount of positive feedback and noticed a significant decline in reports of cyberbullying and harassment from users of the app
Los Angeles, CA (PRWEB) May 19, 2016
Camsurf, a social video messaging app available to download for free on the Google Play App Store, is redefining how strangers meet and connect with each other. Unlike similar apps and chat platforms, Camsurf takes a strong anti-cyberbullying and harassment stance, implemented through a campaign dubbed Safe Space which makes use of educational material, advanced filters on the app, and heavy investment in training moderators to spot the signs of cyberbullying and harassment. Users who neglect the rules of Camsurf and use the platform to harass others risk receiving a ban from the app.
The latest update of Camsurf, implemented along with the Safe Space campaign, has brought with it a host of new features alongside improvements to existing features. The app has now been translated into 31 languages allowing users to connect randomly with millions of other people from over 200 countries using the webcam on their smartphone. Other features include users having the ability to filter connections by country or language, improvements to connection speeds providing lightning fast connections on both Wi-Fi and mobile networks, and additional security measures to protect users and their anonymity.
"Camsurf is a unique video messaging service because we don't shy away from the problem of cyberbullying and harassment," said Camsurf Co-Founder, Allen Fox, "In fact, we tackle the problem head on which is why we created the Safe Space campaign. Since launching Safe Space, we have received a huge amount of positive feedback and noticed a significant decline in reports of cyberbullying and harassment from users of the app."
Since launching the Safe Space campaign two months ago, Camsurf has experienced a huge surge in popularity with thousands of daily downloads leading to the app featuring in the Top 20 Free Social Apps on the Google Play Store in numerous countries. Ratings and reviews of the app have also experienced a surge in this time with the average app rating increasing from 3.2 to 3.8 stars. On current trends, Camsurf is expected to break one million downloads by the end of May.
About Camsurf
Camsurf is a free, family-friendly video chat messenger service where people can use their webcam to make new friends, find love, learn a new language, or discover a new culture online. Camsurf offers a lightweight and easy-to-use video chat platform, the ability to filter users by country, and a free mobile app for chatting on the go. By employing a team of moderators and enforcing rules against adult behavior and nudity, Camsurf offers its users a safe, family-friendly environment in which they can meet new people from around the world. Camsurf makes a stand against cyberbullying and harassment through its Safe Space campaign.