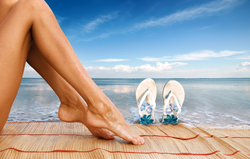 The earlier you detect and treat, the better the results! - Dr. Madaiah Revana
Humble, TX (PRWEB) May 16, 2016
With the summer months approaching, getting outside to do those all-time favorite hobbies like gardening, swimming, traveling, biking, hiking, etc., is what the season is all about. In order to be fully prepared to take on the hot days, it's important to take care of any leg problems now rather than later. Activities in the summer usually require lighter clothing such as shorts, swimsuits or sundresses. Instead of being insecure, let Dr. Revana at Northeast Houston Vein Center give back the confidence that everyone deserves.
Northeast Houston Vein Center is offering a phlebectomy procedure just in time for the summer months. This minimally-invasive procedure uses a small scalpel or needle to make several tiny incisions in the skin to remove varicose veins on the surface of the leg. This procedure may be a good option for patients who have previously had a deep system treatment, but still have varicose veins visible. It is typically performed following the ablation procedure, as it essentially cleans up what is left over.
As flowers and gardens start to grow, so does the soreness in legs from all the manual labor — standing, kneeling, pulling, crouching and leaning. Oftentimes, it can be tough the next morning to even move a muscle. Although the soreness could just be from aging, it also could be a more serious problem that doesn't need to be prolonged any further.
Those suffering from pain, cramping, aching, restless legs, tiredness, heaviness, swelling, ulceration, skin discoloration, edema or varicose veins are most likely suffering from a more serious disease – venous reflux disease or arterial disease. These occur when there is a backward flow of blood in the legs, causing the blood to pool, creating pain and sometimes clots. In order to properly treat the condition, Dr. Revana starts with a diagnosis in his office.
Let Dr. Revana and the highly-trained and professional staff of Northeast Houston Vein Center help assist any and all leg needs today with a consult in the office. To find out more about the procedure, to learn about personal risks, or to schedule an appointment, call 281-446-4638 or visit their website at http://www.nehoustonveincenter.com today! Everyone deserves to be "summertime fine."
About Northeast Houston Vein Center:
The experienced physicians at Northeast Houston Vein Center offer comprehensive vein treatment in the Houston area. They provide the latest techniques and state-of-the-art equipment in the diagnosis and treatment of venous disease. Since its establishment in 1978, the medical professionals at Northeast Houston Vein Center have been dedicated to going above and beyond for their patients. Treatment options are minimally invasive and the outpatient procedures will allow patients to resume normal activities the same day. At Northeast Houston Vein Center, patients can imagine a life free of venous disease. For more information, visit their website at http://nehoustonveincenter.com/.