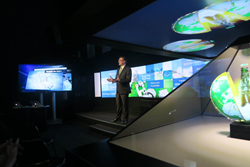 At Multi Image Group, we create some really unique and tailored solutions for organizations needing to make an impact that changes opinions and inspires loyalty.
Boca Raton, Florida (PRWEB) May 17, 2016
There is so much pressure for companies and brands to create fresh, attention-grabbing moments that will not just "wow" a target audience, but make a lasting and positive impression on them. Multi Image Group (MIG) is excited to share some of the innovative ideas and cutting-edge tools and techniques that can be used to make these transformational impacts for brands. A preview of these capabilities will be shown at MIG's Imagination Lab privately held at Arizona's renown boutique hotel, The Palomar Phoenix on June 9th & 10th, 2016.
The MIG Imagination Lab will give exclusive guests a hands-on preview of some of the breakthrough, creative strategies and technologies that are enlivening and transforming corporate events, tradeshows, and experiential activations. From live examples of Virtual Reality, to non-linear presentation software, to 3D display solutions and multi-sensory experiences, MIG will share how organizations can seize the advantages of these technological advancements to deepen connections between brands and audiences.
MIG's Chief Creative Officer, Guy Hollier emphasizes the power of the iLab: "At Multi Image Group, we are both the passionate inventors and the strategic curators of what's next, what works, and what will make that ever-elusive, unforgettable, and positive impression. We create some really unique and tailored solutions for organizations needing to make an impact that changes opinions and inspires loyalty. We're opening eyes and igniting imaginations. It's really something to see."
Multi Image Group has been a long-time adopter and developer of innovative and emerging presentation and communication tools, frequently traveling the world to seek out innovators who are stretching the boundaries of what's possible. This is a unique opportunity for organizations to get a sneak preview and experience firsthand what's coming next. For those in the Phoenix area attending the DSA Annual Meeting at the JW Marriott on June 5-7, MIG will be exhibiting at booth #1231 showing off some special discoveries.
"We are doing some really cool stuff in our Imagination Labs," said Executive Creative Director, Barry Ross Rinehart. "Seriously. Attendees always tell us how grateful they are because they leave knowing that they've been given a glimpse into the future, and they feel like they are several steps ahead of their competitors in knowing how to dazzle their audiences."
June 9th and 10th are just around the corner with only a limited amount of time slots available for these private presentations. For those interested in attending the MIG Imagination Lab, please contact Multi Image Group at marketing(at)mig(dot)cc, 800-523-2682 Ext. 205, or click to request on our website.