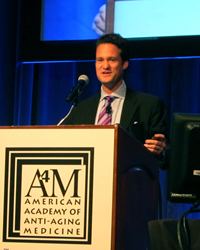 "The bottom line is, while certain hormone therapy may put men at an increased risk of hair loss, if proper preventative measures are started early, a significant amount of hair loss can be avoided."
Boca Raton, Florida (PRWEB) May 17, 2016
Nationally recognized hair loss expert, Alan J. Bauman, M.D., will be a featured presenter at the 24th Annual World Congress on Anti-Aging Medicine on May 20-21 at The Diplomat Resort & Spa in Hollywood, Florida.
Dr. Bauman will be presenting on "Hair Loss and Hormones: Stratagems for Managing Androgenetic Alopecia in the Presence on Androgen Replacement." The presentation, which is addressed to anti-aging physicians and practitioners, will explore how androgen replacement therapy may trigger, or speed up, hair loss in patients who are androgen sensitive, and offer guidelines for patients, age-management physicians and others who prescribe HRT.
While androgen replacement therapy using testosterone is effective at reversing low testosterone, or low-T, it has been found to put some men, and even some women, at a higher risk for another unwanted sign of aging: accelerated hereditary hair loss. In the body, testosterone is naturally converted into dihydrotestosterone (DHT), the well-known primary trigger for hereditary male pattern hair loss.
While some male patients may have a higher risk for hair loss, Dr. Bauman urges them not to be dissuaded from undergoing low-T therapy and those being treated not to discontinue therapy until they've talked to a hair restoration specialist. "What is so important for patients, and doctors, to understand is that with today's advancements in the medical management of hair loss, and the preventative treatments available, patients don't have to choose between the benefits of hormone therapy and their hair," Bauman explained. "The bottom line is, while certain hormone therapy may put men at an increased risk of hair loss, if proper preventative measures are started early, a significant amount of hair loss can be avoided."
Three Steps for Preventing Hair Loss During Hormone Replacement

Risk Assessment - Family history, signs of hair loss, dermoscopy, and genetic testing are some of the indicators used to determine one's hair loss risk. New diagnostic tools and monitoring methods, such as trichometry measurements (HairCheck®), and scalp microscopic photos, are also used during a risk assessment prior to treating patients with androgen replacement.
Treatment Options – Finateride, dutasteride, and nutraceuticals can be used to block the effects of androgen. However, there are also many effective non-hormone related treatment options available for patients, such as minoxidil, bimatoprost, laser therapy, and PRP (platelet rich plasma). For patients looking for permanent results, hair transplantation through no scalpel/no-stitch harvesting with NeoGraft FUE or the ARTAS robotic-assisted hair transplantation technique can provide natural-looking, permanent hair regrowth.
Tracking and Follow-Up – As with any medical treatment, progress should be monitored to ensure optimal results. Hair growth can be tracked through cross-section bundle trichometry and hair caliber and density measurements, if patient isn't achieving optimal results, treatment regimen can be adjusted accordingly.
Dr. Bauman's presentation will also include new diagnostic and monitoring methods, such as genetic testing, cross sectional bundle trichometry measurements (HairCheck®), and scalp microscopic photos. He will also discuss treatment stratagems specifically for patients undergoing hormone replacement therapy that includes testosterone, such as nutraceuticals, topical medications, oral/systemic medications, low level laser therapy, Platelet Rich Plasma (PRP), FUE & ARTAS hair transplantation, and recommended tracking, compliance and follow-up scheduling.
For practitioners interested in learning more about the medical management of hair loss, and how to identify those at risk, Dr. Bauman offers a 3-day workshop. In addition to the medical management of hair loss, the workshop provides education, knowledge and detailed instructions on how to perform scientific "scalp makeovers" using trichology evaluations and customized treatments for scalp health. For more information on the Healthy Hair Workshop, visit http://www.healthyhairworkshop.com.
For patients or doctors who are interested in learning more about Dr. Bauman, and Bauman Medical Group, or to make an appointment, visit http://www.baumanmedical.com or call 1-877-BAUMAN-9 or 561-394-0024.
About Dr. Alan J. Bauman:
Alan J. Bauman, M.D. is a full-time hair transplant surgeon who has treated over 17,000 patients and performed over 7,000 hair transplant procedures since starting his hair loss practice, Bauman Medical Group, in 1997 located in Boca Raton, FL.
Dr. Bauman received his M.D. degree from New York Medical College and surgical residency training at Mt. Sinai Medical Center and Beth Israel Medical Center in New York. Dr. Bauman is one of approximately 100 physicians worldwide to achieve board certification from the esteemed American and International Board of Hair Restoration Surgery. He is a Fellow of the International Society of Hair Restoration Surgery, and is an active participant and lecturer at numerous Annual Scientific Meetings and Live Surgery Workshops.
Dr. Bauman is an author of textbook chapters on the science of hair care and hair transplantation, including eyelash transplant surgery, and has been extensively featured in the world's leading media as a medical expert and successful early-adopter of some of the most advanced technologies in the treatment of hair loss such as laser therapy and NeoGraft FUE hair transplantation.
Dr. Alan Bauman has appeared in print, radio and television as a medical expert and successful early-adopter of the most advanced technologies in the treatment of hair loss. Appearances, interviews and profiles include the Today Show, The Early Show, Good Morning America, Extra, Access Hollywood and Dateline NBC among other TV appearances. Newspaper and Magazine articles and feature stories include The New York Times, Newsweek, Cosmo, Vogue, Allure, O – The Oprah Magazine and Men's Health among others.
About the American Academy of Anti-Aging Medicine:
As a federally registered 501(c)3 non-profit organization, the American Academy of Anti-Aging Medicine (A4M) is the world's largest non-profit scientific society of physicians and scientists dedicated to the advancement of technology to detect, prevent, and treat aging related disease and to promote research into methods to retard and optimize the human aging process.
A4M offers exclusive membership to all medical professionals where they gain access to over two-decades of established medical expertise. We are also dedicated to educating physician and scientists and are proud to be in our 23rd year of providing first-class continuing education conferences on anti-aging, regenerative and functional medicine. To further demonstrate our commitment to the future of medicine, the shared responsibility for patient outcomes and transforming health education through innovation, we offer Board Certification and numerous educational programs and events offered throughout the year.