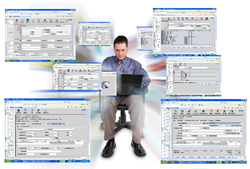 This award is affirmation that our focus and commitment are yielding tangible results for our clients.
Fort Washington, Pennsylvania (PRWEB) May 17, 2016
For the second consecutive year CIOReview magazine (cioreview.com) has selected RAM Technologies, Inc. for its list of Most Promising Insurance Technology Solution Providers. The selection is based on the extensive range of capabilities provided by RAM's core administrative platform HEALTHsuite® Mercato as well as RAM's demonstrated expertise in project management and collaborative solutions.
The Insurance Technology Solution Providers list is selected by CIO Review's editorial board in conjunction with an outside panel of experts. The selection criteria included product capabilities, market position, client input and overall value as a function of return on investment.
"I congratulate RAM Technologies on being recognized with the much coveted title and being a recipient of Most Promising Insurance Technology Solution Providers 2016," said Jeevan George, Managing Editor of CIOReview. "We are glad to showcase RAM Technologies this year due to its continuing excellence in delivering top-notch technology driven solutions."
RAM's solution suite includes the enterprise platform HEALTHsuite Mercato as well as the web portal eHealthsuite™.
HEALTHsuite Mercato is a highly adaptable, browser-based solution designed to simplify the administration of government sponsored healthcare programs. HEALTHsuite Mercato provides unparalleled automation across the enterprise including eligibility and enrollment, plan / product and benefit administration, provider contracting and reimbursement, provider credentialing, medical / utilization management, care management, premium billing, encounter and claims administration, overpayment recovery, customer service and contact management, capitation, subrogation, fulfillment, EDI processing, management / operational reporting and more.
In addition to the enterprise capabilities provided by HEALTHsuite Mercato, RAM also offers a flexible and secure web portal, eHealthsuite. eHealthsuite enables members and providers to interact in real time with the health plan through a secure Internet connection. This 24 x 7 self-service functionality lowers administrative costs by reducing demands on a health plan's customer service personnel.
"As an organization we have made the strategic commitment to being the total end-to-end solution for Medicare and Medicaid health plans," said Christopher P. Minton, Executive Vice President of RAM Technologies, Inc. "This award is affirmation that our focus and commitment are yielding tangible results for our clients."
To view CIO Review's feature article on RAM Technologies CLICK HERE.
About CIO Review
Published from Fremont, California, CIOReview is a print magazine that explores and understands the plethora of ways adopted by firms to execute the smooth functioning of their businesses. A distinguished panel comprising of CEOs, CIOs, IT VPs including CIOReview editorial board finalized the "20 Most Promising Insurance Technology Solution Providers 2016" in the U.S. and shortlisted the best vendors and consultants.
About RAM Technologies:
RAM Technologies is the leading provider of enterprise claims processing software and claims adjudication software for health plans. For over 34 years RAM Technologies has led the way in the creation of Medicaid software solutions, Medicare software solutions and software for dual eligible processing (the Medicare-Medicaid Financial Alignment Initiative). RAM Technologies has been recognized on Inc. Magazine's List of Fastest Growing Private Companies and the Philadelphia Business Journal's List of Top Software Developers for their advancements in the creation of comprehensive claims management software for Medicare and Medicaid administration. To learn more about RAM Technologies' healthcare claims processing and managed care software solutions call (877) 654-8810 or visit http://www.ramtechinc.com.