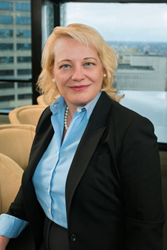 Anne's dedication and outstanding contributions to the legal profession make this a natural fit.
Nashville, TN (PRWEB) May 17, 2016
Anne C. Martin has recently been elected a Fellow of the Tennessee Bar Foundation, an association of 818 attorneys across the state. Invitations to membership, which is a position of honor, were extended to 30 attorneys this year by the Board of Trustees of the Tennessee Bar Foundation. This introduction of new Fellows took place in May at the annual Fellows' Dinner in Nashville.
"Anne is one of the top rated employment litigation attorneys in Tennessee", says chairman Charles W. Bone. "Anne's dedication and outstanding contributions to the legal profession make this a natural fit. She'll be a passionate advocate for their public interest projects throughout Tennessee."
The Bar Foundation's purpose is two-fold: to honor attorneys who have distinguished themselves in the profession and to administer a grant making program. That project, known by its acronym "IOLTA" (Interest On Lawyers' Trust Accounts), has awarded grants in excess of $20 million to law-related, public interest projects across Tennessee.
Martin is a Member in the firm of Bone McAllester Norton, PLLC and has been practicing law in Nashville for almost 25 years. She is a graduate of Smith College and Vanderbilt University Law School.
About Bone McAllester Norton PLLC
Bone McAllester Norton PLLC is a full-service law firm with 40 attorneys and offices in Nashville, Sumner and Williamson counties, Tennessee. Our attorneys focus on 18 distinct practice areas, providing the wide range of legal services ordinarily required by established and growing businesses and entrepreneurs. Among our practices, we represent clients in business and capital formation, mergers and acquisitions, securities matters, commercial lending and creditors' rights, commercial real estate and development, governmental regulatory matters, commercial litigation and dispute resolution, intellectual property strategy and enforcement, entertainment and environmental matters. Our client base reflects the firm's deep understanding and coverage of today's leading industry and business segments. For more information, call 615-238-6300 or visit http://www.bonelaw.com.