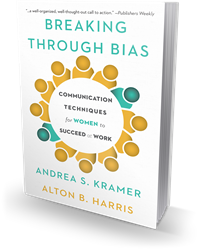 If women want to succeed, they cannot passively accept the current gender-skewed state of affairs.
Boston, MA (PRWEB) May 17, 2016
Bibliomotion is thrilled to announce the launch of BREAKING THROUGH BIAS: Communication Techniques for Women to Succeed at Work by Andrea S. Kramer & Alton B. Harris (May 17, 2016).
"With the right encouragement and preparation, we believe women can claim their seats at the leadership table and speak with voices that will be heard." – Andrea S. Kramer & Alton B. Harris, Breaking Through Bias
More than fifty years after the start of the modern Women's Movement, women in the United States are still not "making it" in traditionally male careers. Women start their careers in numbers comparable to men but as they move up the career ladder, they are severely underrepresented at every level, with the disparity greatest at the most senior levels. Moreover, women very often end their careers earlier than men, having achieved substantially less status, lower compensation, and less satisfaction than their male counterparts.
In BREAKING THROUGH BIAS: Communication Techniques for Women to Succeed at Work, (Bibliomotion, Inc.; Hardcover; May 17, 2016) Andrea S. Kramer and Alton B. Harris explain that this glaring disparity in women's and men's career achievements is not women's lack of ambition or confidence, their child care responsibilities, or even the policies and practices in most male dominated workplaces. Rather, it is society's pervasive stereotypes about women, men, work, leadership, and family, and the discriminatory biases that flow from them, that prevent women from overcoming serious obstacles to advance in their careers.
"If women are going to advance as they aspire to, then they cannot passively accept the current gender-skewed state of affairs," Kramer writes. "Women need to recognize and purposefully counter the gender stereotypes and biases present in many workplaces through nuanced and carefully honed communication techniques."
The core of the authors' approach involves a series of such communication techniques and attitudinal adjustments. One example is Attuned Gender Communication, a term coined by Kramer and Harris to describe the ability to communicate in ways that avoid, dispel, or overcome gender bias. This technique involves four pieces:
1. Cultivate the right attitudes for career success. This includes grit, a positive perspective on your abilities, a coping sense of humor, and a confident self-image.
2. Maintain high self-awareness by observing how other people react to you in different contexts.
3. Commit to impression management by making sure that the impressions you make put the spotlight on your most appropriate and effective qualities for that particular situation.
4. Communicate to maintain the impressions you make through both verbal and nonverbal communication management, including tone, facial expressions, body language, and more.
BREAKING THROUGH BIAS makes clear that women have within their own power the ability to avoid or overcome these stereotype-driven obstacles to achieve career success. Kramer and Harris argue strongly that women do not need compromise their authentic selves, act more like men, or wait for systematic change in order to achieve success. They do, however, need to be attuned to the negative gender stereotypes that surround them; anticipate the biases these stereotypes foster; and manage the impressions they make to avoid or overcome these biases.
Kramer and Harris present practical, timely, effective, and original advice as to how women can communicate in ways that:

Allow them to avoid or overcome discriminatory gender biases
Present themselves as competent and confident leaders
Promote themselves, their talents, and achievements effectively without stereotype backlash
Strengthen and display the key attitudes necessary for career success
By writing together, Kramer and Harris also are able to offer on these critical issues the unique dual perspective of a successful woman and a successful man. While their advice is specifically addressed to talented, ambitious women, it is also aimed at men —particularly men in senior leadership positions who are in a position to help.
"Most senior men don't have a clue about how much harder it is for a woman to succeed in a career than it is for a man," Harris writes. "Too many of these men don't think about unconscious gender bias at all, or if they do, they don't take the issue sufficiently seriously."
This advice is based on Kramer's and Harris's extensive experience as business leaders, accomplished attorneys, and law school professors; their deep involvement in compensation, promotion, and hiring decisions; their mentoring and coaching of thousands of women; their more than thirty years of speaking, writing and studying gender communication; and their utilization of the latest social science research.
ABOUT THE AUTHORS
Andrea S. Kramer ("Andie") and Alton B. Harris ("Al") are married, have a daughter in medical school, and are former law partners. They have both served in senior management positions and have in-depth experience with all aspects of personnel management including recruiting, hiring and firing, individual and team supervision, compensation, and promotion. They have co-written more than thirty professional and gender-related articles and book chapters, and they have collaborated in mentoring women in a variety of positions and fields and speaking to business and professional groups about gender bias.
Andie is a partner in the international law firm McDermott Will & Emery LLP, where she heads the firm's Financial Products, Trading & Derivatives Group. She is a nationally recognized authority on gender communication, having mentored thousands of women and written many articles on the subject, including co-authoring the American Bar Association's guide, "What You Need to Know About Negotiating Compensation." Andie co-founded the Women's Leadership and Mentoring Alliance (WLMA) and currently serves as the organization's board chair. She was named one of the 50 Most Influential Women Lawyers in America by the National Law Journal and received the prestigious Gender Diversity Lawyer of 2014 award from ChambersUSA. She is Chair Emerita of the Chicago Foundation for Women.
Al was a founding partner of the Chicago law firm Ungaretti & Harris, now part of Nixon Peabody LLP. At Ungaretti and Harris, Al served at various times as managing partner, executive and compensation committee member, and head of the Corporate and Securities Practice Group. He is an adjunct professor of law at Northwestern University School of Law, and he sits on the board of directors of a billion-dollar technology corporation. Al has served as mentor, coach, and counselor to many successful businesswomen and recently wrote with Andie, "Taking Control: Women, Gender Stereotypes, and Impression Management."
AN INTERVIEW WITH THE AUTHORS
Q: What did you hope to accomplish by writing this book?
A: In Breaking Through Bias we have two fundamental objectives. The first is to convince
women that despite the gender biases they face in their careers, they can succeed without waiting for the world or their workplaces to become more gender neutral. And the second is to give women the tools – information and communication techniques – they can use to do precisely that: succeed in the face of gender discrimination.
Breaking Through Bias is fundamentally different from other advice books because we explicitly identify gender stereotypes and the biases that flow from them as the primary reason for the glaring gap in women's and men's career achievements. We want women and men to be aware of these stereotypes, understand how they operate to slow or block women's career advancement, and learn how to avoid or overcome these stereotypes. By writing together, we believe we have offered women truly unique, helpful, and immediately actionable advice.
Q: In Chapter 3, you stress the importance of "impression management." How should a woman manage the impressions she makes to play a leadership role in her organization?
A: Women in traditionally male careers – lawyers, doctors, tech entrepreneurs, fighter pilots, just about all high status high financially rewarded careers – face negative stereotypes about women, family, job commitment, and leadership. The traditional female stereotype is that a woman just doesn't have the right characteristics to be an effective leader. On the other hand, if she violates these traditional stereotypes and displays the characteristics of a leader, there is likely to be a backlash against her: something is wrong with her; she is not a nice person; she is a bitch; she is a bad mother; and she is certainly not feminine.
So, for a woman to effectively manage the impressions other people have of her, she needs to overcome this double bind, or what we call the Goldilocks Dilemma. This involves a series of steps.
First, she need to monitor the conversations she has with herself -- to be positive and supportive. Second, she needs to learn how to identify the impressions she is making on other people and know when she needs to "dial it up" – to be more assertive and tough – and when to "dial it down" – to be more supportive and inclusive.
When she can do these two things, there are four more things she needs to do:
1. Seeking out challenging projects and opportunities, not hanging back because these projects and opportunities are outside of her comfort zone or involve long hours or travel; speaking up, not letting the men dominate the meetings and discussions.
2. Not providing too much information about her family responsibilities, her fears, her concerns. She does not need to say she is not available for a call at 2 p.m. because she has to take care of her kids, just that she would be happy to talk any time after 5:30.
3. Showing a sense of humor. She doesn't need to join in with men's locker room jokes, but she does need to be a good sport with a capacity to laugh. And, when things get difficult, she needs to display a coping sense of humor – to help her – and the others with her – through these difficulties.
4. Not worrying about being "likable." She needs to be talented, willing to promote herself, and to be in the right place at the right time. She doesn't need to be seen as nice or sweet or caring. She needs to be respected, seen as competent and inclusive of others ideas.
Q: In Chapter 4, you write that women must be noticed as "competent, confident, and capable," while not being seen as "pushy, unpleasant, or socially insensitive." How might women strike a balance between these seemingly conflicting objectives?
A: Again, this is what we call the Goldilocks Dilemma. Women who seek to be leaders are often seen as competent but too strident and insensitive, or likable but too soft and lacking confidence, but rarely just right. If a woman acts with authority and decisiveness, both men and women criticize her. If, on the other hand, a woman conforms to common female stereotypes – cautious, deferential, careful – it is as if she is announcing she is not cut out to be a leader, that she doesn't have the right stuff.
The key to overcoming the Goldilocks Dilemma and to getting it "just right" is what we call attuned gender communication. Essentially, this means being competitive and welcoming, decisive and sensitive, authoritative and inclusive. When a woman can use both communal and agentic characteristics simultaneously, she can lead without a backlash.
Q: What does the Class of 2016 need to know about gender bias in the workplace? What is the most important piece of advice you can offer to female graduates as they prepare to launch their careers?
A: First, they need to realize that as women they will face obstacles in their careers that are simply not there for men. The major reason for this is that gender stereotypes (mostly unconscious) powerfully shape the attitudes and behaviors of the people who are the gatekeepers along their career paths. Women who understand these stereotypes are in a position to avoid the biases that flow from them, work around them, or tackle them head on.
Second, because of these stereotypes, many women seek to avoid the negative reaction they believe they will face if they act too decisively, too competitively, too strongly. As a result, they self-edit, tone down their own competence and confidence in order to be seen as more likable.
As men grow more successful, they are liked and admired more; but as women grow more successful, they are liked less, viewed as aggressive and difficult to deal with. But the way to deal with this is not by holding yourself back.
Third, women need to manage the impressions they make on others by using attuned gender communication. This involves a variety of things we discuss in Breaking Through Bias, but one of them is language style. Many women grow up using a communal language style that is intended to be noncontroversial but that actually makes them appear less confident than they actually are. Many women, for example, are likely to use phrases such as:

"I might be wrong about this but …"
"This might be stupid but …'
"I'm sorry …"
When women speak in this tentative sort of way, the people with whom they are interacting are likely to discount their opinions and contributions. Women need to drop their tentativeness, present their ideas directly and clearly, speak up, and not worry about being liked.
PRAISE FOR BREAKING THROUGH BIAS
"According to spouses Kramer and Harris, 'Women don't need to be fixed,' but society does, and quickly. The authors proceed to identify a serious advancement problem for women, who make up 45% of entry-level professionals but only 17% of C-suite executives. They blame this gap on the pervasiveness of gender stereotypes, which lead to a kind of 'benevolent sexism' that's as damaging as it is unintentional. Kramer and Harris acknowledge that systemic change is important, but it takes time, which leaves current would-be executives in the dust. The authors discuss managing perceptions, being aware of body language, crafting communications, and using anger to its best effect … a well-organized, well-thought-out call to action…" – Publishers Weekly
"Breaking Through Bias teaches women strategies they can use to counteract the negative effect of gender biases, while showing men what actions they can take to help advance their women colleagues. This book deserves widespread attention!" – Hon. Jessica A. O'Brien, president, Women's Bar Association of Illinois
"Women are more qualified, educated, and prepared for leadership roles in every field—business, law, politics, and technology—than ever before. Yet, well into the 21st century, we still encounter the old barriers of prejudice and gender bias. Breaking Through Bias provides women with hugely impactful tools that can be put to use right now to confront gender issues and, yes, partner with enlightened men to promote our advancement." – Jan Schakowsky, congresswoman, 9th District of Illinois
"Change cannot come fast enough in the pursuit of gender equality in the workplace. In Breaking Through Bias, Andie and Al provide strategies that allow women—and men—to create their own change by teaching us to communicate in a way that overcomes biases and stereotypes. This information is invaluable for all professionals looking to accelerate within inclusive workplaces around the globe." – Deborah Gillis, president & CEO, Catalyst
"It is exciting to see the ideas that Andie has been using for so long to personally mentor women now being made available on a broad scale in this terrific book. A great read for any woman who wants to take control of her career and be seen as the smart, capable woman she is." – Julie Howard, chairman & CEO at Navigant Consulting, Inc.
"Andie and Al tackle the all-important subject of gender-correlated communication styles in the workplace from a fresh perspective. Combining their own real-life experiences (as a woman and as a man) with solid research, Breaking Through Bias is a highly readable book. Offering both practical advice for women and essential knowledge to the men who want to support them, this is a book to read and to share with others." – Carol Frohlinger, president, Negotiating Women, Inc.
"Barriers to gender equality persist. This groundbreaking book encourages talented women to persevere on the road to achieving the success they seek. This book should be mandatory reading for women both at the onset of their careers and on the path to the top of their profession." – Laurel G. Bellows, managing principal, The Bellows Law Group, P.C. and past president, American Bar Association
"Andie and Al have written an exceptional book – and an important one. It reflects decades of experience in thinking about how to overcome gender bias, and is chock-full of practical and accessible strategies for surmounting the challenges that women – and men – face. It should be read and studied by anyone seeking to win in the worldwide battle for talent." – Jeffrey E. Stone, chairman, McDermott Will & Emery LLP
"Andie has worked tirelessly on the advancement of women in workplaces for so many years, and the wisdom and insights from that work are elegantly captured in this book! Breaking Through Bias is a great resource for women navigating the realities of workplace gender bias and the men who want to make their workplaces work better for everyone! Andie and Al's advice is practical without asking women to be something other than who they are, which is why it will also be effective for those who utilize it." – Dr. Arin Reeves, author of One Size Never Fits All: Business Development Strategies for Women (And Most Men) and The Next IQ: The Next Generation of Intelligence for 21st Century Leaders
"Breaking Through Bias serves as a wake-up call for senior business leaders. The book explores common gender stereotypes and discusses the discriminatory bias that results. Based on my own work on culture change over the past five years, I am convinced that bias in the workplace is real. Things aren't equal. I can't allow myself to be satisfied with an environment where female employees have to expend energy combatting bias, so culture change is necessary – but it is slow work. This book offers insights and practical approaches to help women manage the environment as it exists. It is essential reading for modern businesspeople of either gender." – Lee Richard Tschanz, vice president North America, Sales, Services, and Solutions, Rockwell Automation
"The medical profession is no more free of gender bias than all other professions that make up our economy. From the early stages of training to achieving the attending physician status, bias exists at every level. Thus, I am enthusiastically recommending that women medical students, residents, and fellow colleagues read and re-read Breaking Through Bias." – Neelum T. Aggarwal, MD, Chief Diversity Officer of American Medical Women's Association; chair of Mentors, Advisors and Peers Committee, Women in Bio (Chicago); associate professor, Departments of Neurological Sciences and Rush Alzheimer's Disease Center
"Andie and Al have created the perfect primer to navigate through the treacherous waters of gender bias. This is not a book you read and donate to your neighborhood library! You'll want to keep it handy for its many insights and apply them to the countless scenarios that emerge throughout your personal and professional life. This is the book I wish I had more than 35 years ago when I launched my career in public relations." – Cheryl Procter-Rogers, PR strategist and executive coach, A Step Ahead PR Consulting and Coaching
ABOUT BIBLIOMOTION
Bibliomotion is a book publishing house designed for the new publishing landscape. While many publishers work to retrofit old processes for new realities, Bibliomotion was founded by book-industry veterans who believe the best approach is a fresh one – one that focuses on empowering authors and serving readers above all else. Moving away from the top-down model that has dominated the publishing process for years, we give each member of the team – including the author – a seat at the table from the very beginning and in doing so, work side-by-side to launch and sell the best content possible, making it available in a variety of forms.