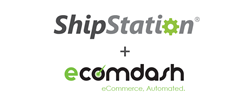 We're thrilled to offer ShipStation customers the ability to view their inventory quantities across channels as a sale is made.
Austin, TX (PRWEB) May 17, 2016
ShipStation, the leading web-based e-commerce shipping solution, today announced its integration with Ecomdash, an inventory management system that allows online retailers to manage products across multiple channels. It streamlines every step of the sales cycle – from purchasing new inventory and creating new listings on sales channels to syncing inventory based on sales across all channels.
Ecomdash users connect to shopping carts and online selling platforms, and ShipStation connects with over a hundred of the top online selling channels, including Shopify and Etsy. Once connected, Ecomdash sellers will have access to all of ShipStation's time- and money-saving shipping and fulfillment features, including a free USPS shipping account, saving users $15.99 per month, and providing deeply discounted USPS rates.
"We're thrilled to offer ShipStation customers the ability to view their inventory quantities across channels as a sale is made," notes Nick Maglosky, Ecomdash CEO. "ShipStation is highly regarded for offering exceptional service and quality software to their users, and we are looking forward to a strong partnership with ShipStation."
In addition to the free USPS shipping account, Ecomdash sellers using ShipStation will have access to the following features and benefits:

Availability of mobile app, free on iOS and Android devices, to manage and view your ShipStation account on your phone, on the go
Automation rules that can be set up by sellers to automatically choose the optimal shipping option based on type of product, weight and geography
Batch printing more than 500 shipping labels at once, even wirelessly, from a large variety of thermal or desktop (inkjet or laser) printers, from a Mac, PC, or mobile device
Customized and/or branded shipping and packing label options
"Inventory management can be a time-consuming process," says ShipStation's Vice President of Marketing Robert Gilbreath. "We're excited to offer Ecomdash customers the ability to save time and money on their shipping and fulfillment via the ShipStation platform."
About ShipStation
ShipStation is the leading web-based shipping solution that helps e-commerce retailers import, organize, process, package, and ship their orders quickly and easily from any web browser. ShipStation features the most integrations of any e-commerce web-based solution with over 100 shopping carts, marketplaces, package carriers, and fulfillment services. Integration partners include eBay, Amazon, Etsy, Shopify, Bigcommerce, Magento, WooCommerce, and Squarespace; along with carriers such as USPS, UPS, FedEx, and DHL. ShipStation has sophisticated automation features such as automated order importing, custom hierarchical rules, product profiles, and fulfillment solutions that enable its customers to complete their orders, wherever they sell, and however they ship. ShipStation is a wholly-owned subsidiary of Stamps.com (Nasdaq: STMP). For more information, visit http://www.shipstation.com.
About Ecomdash
Ecomdash is a web software application enabling ecommerce sellers to run their business from anywhere at any time in a fraction of the time they spend today. Ecomdash automates and integrates omni-channel retailers' inventory, sales orders, product listings and shipping processes across marketplaces like Amazon, eBay and Etsy as well as ecommerce-ready website platforms like Bigcommerce, Shopify and Magento. Ecomdash gives merchants the ability to save time, grow sales, and increase customer satisfaction. For more information, visit ecomdash.com.