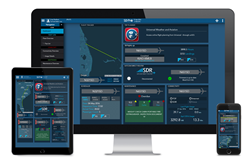 "SD Pro brings together many functions into a modular dashboard. We've already partnered with a number of providers to integrate the systems flight departments use most," said David Greenhill, SD president
Geneva, Switzerland (PRWEB) May 24, 2016
SD Pro aggregates information from multiple sources the flight department is already using, into a web-based display, so that every member of the team can access it from their desktop, tablet or mobile device. Designed to be a single point of access, the SD Pro interface displays the information via modules on its customizable dashboard that can be tailored to meet the varying needs of flight departments and individual team members. Operators can choose which modules to add to the SD Pro dashboard based on their operational requirements.
"We conceived the idea for SD Pro when we saw how members of aircraft management companies and flight departments had to access numerous information sources, multiple screens, and disparate access points to do their jobs. SD Pro changes that by bringing together many of these functions into a modular dashboard. We've already partnered with a number of providers to integrate the systems flight departments use most – and more partnerships are in the works," said David Greenhill, President of SD.
SD Pro not only brings together information from multiple third-party providers, it offers powerful data capture capabilities from its value added services, FlightDeck Freedom® (FDF) premium datalink service, and the Satcom Direct Router (SDRTM). This allows the extraction of operational data from the aircraft such as telemetry and position data, fuel indications, operational parameters and more. Revolutionary SD Pro technology processes the data and securely stores it in the state-of-the-art SD Data Center. SD Pro is designed to grow, with additional modules in development to deliver the functionality flight departments require.
"SD Pro synchronizes the flight department with the aircraft, in real-time. The SD Pro platform is even more powerful when combined with the SDR and FDF. Their advanced data capture capabilities create a reliable historical record for the life of the aircraft, and save money by accurately capturing cycles and times down to the second," said Jim Jensen, Founder and CEO of SD. "The future of flight operations management is here."
Flight Departments interested in more information about SD Pro can visit http://www.satcomdirect.com/sdpro or call +1.321.777.3000 (US) or +44.1252.554.460 (international).
About Satcom Direct: Satcom Direct (SD) provides global connectivity solutions for business and general aviation, military, government, and heads of state aircraft, as well as operations in areas with connectivity limitations such as remote locations, large scale events, and disaster recovery. SD is a technology innovator. Since 1997, its teams have worked to advance the technology of connectivity, making SD the first in the marketplace to deliver numerous advancements and capabilities. The company is a premier Inmarsat Distribution Partner (including Jet ConneX), Iridium Service Partner, ViaSat Yonder's preferred reseller, and the Exclusive Service Provider for SmartSky Networks.
The SD world headquarters and primary operations center is located in Melbourne, Florida, with additional office locations in the United States, Canada, UK, UAE, Switzerland, Hong Kong, Australia, Russia, Brazil, and South Africa. For more information regarding SD, visit http://www.satcomdirect.com, e-mail sales(at)satcomdirect(dot)com, or call U.S. +1.321.777.3000 or UK +44.1252.554.460.