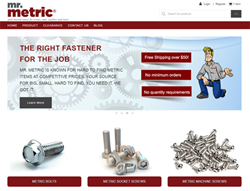 San Jose, CA (PRWEB) May 18, 2016
Mr. Metric, the leading metric fastener specialists in North America, has unveiled its revamped website at mrmetric.com. As part of the ongoing effort by Mr. Metric to enhance the user shopping experience, this newly redesigned website offers quick and easy access to essential information and an upgraded shopping cart that simplifies the ordering process. The website has also been developed to feature a responsive design, adapting its display for optimal viewing for all mobile communications. These improvements provide a more engaging user experience. The website is a true resource for bicycle & automotive enthusiasts, hobbyists, engineers and others.
The updated site includes technological and aesthetic enhancements, which provide a modern, colorful design and a streamlined user experience. Easy to navigate, the website engages hobbyists and engineers with extensive fastener information to help visitors understand the complete range of fastener options available and access resources in our customer support center. "Our goal was to better meet the needs of our customers by making the new site more appealing, functional and intuitive for visitors," said Chris Morris, Marketing Manager at Mr. Metric. "These improvements give our customers instant and easy access to supporting information."
Highlights of the redesign include:

Clean, engaging look with easy-to-navigate layout
Enhanced shopping functionality
Responsive design optimized for desktops, tablets and smart phones
Quick links for social media sharing
Larger fastener images with "zoom in" viewing
Educational video content
Newsletter subscription
New features include a "Fastener Information" section and the "Add to Wishlist" shopping function
New "Clearance" section allows visitors to browse and search for bargain price fastener options
Search capability
The website utilizes current web technologies. Designed with the user experience firmly in mind, the site features easier navigation, support, service, unique metric fastener products, as well as special areas for customer interaction. Furthermore, the website allows users to share products with others via social media.
Well regarded as fastener experts, Mr. Metric (a Mountz, Inc. company) is known for hard to find metric items at competitive prices. Mr. Metric features a blog titled "Keeping it Together". The interactive blog provides valuable fastener information including tips, tricks and things you never knew about metric fasteners. It is a great resource for both hobbyists and engineers. Look out for blog posts from Mr. Metric himself, visit the site today - blog.mrmetric.com. Using quality metric fasteners makes a safer world through accuracy and precision.