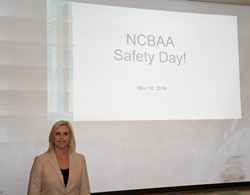 Ms Grey said "Standards are important to promote consistency in a task or process and is used to measure quality and compliance. Well written manuals should provide employees with the necessary information to set them up for success, not failure."
Mountain Veiw, CA (PRWEB) May 18, 2016
Ms Grey's presentation emphasized the elements of a successful internal evaluation program, the value of good policies and procedures, the importance of auditor training, the most common audit findings in maintenance, assessing risk during maintenance activities and the value of using best practices.In recognition that many NorCal NBAA member operators in attendance have a Safety Management System, she emphasized the importance of inclusion of maintenance safety data into the flight operations department's SMS. "There is much education to be done", Grey said, "with A & P mechanics and their management on the value of their input into the operation's SMS. Safety data and the collection of hazards are much needed input. Continuous improvements are very valuable to an operation's safety, efficiency and ability to reduce risk in its overall operation."
Ms Grey provided numerous examples of common root causes to findings, risk mitigation techniques, tips on how to prepare for an audit and how to build controls into company manuals and processes to lower risk and promote compliance and conformance. Ms Grey said "Standards are important to promote consistency in a task or process and is used to measure quality and compliance. Well written manuals should provide employees with the necessary information to set them up for success, not failure."
Her presentation on the value of the Maintenance Risk Assessment Tool (MRAT) was well received. "Maintenance organizations appear to be slow to embrace this easy to use tool, whereas many pilots have been utilizing a Flight Risk Assessment tool (FRAT) for quite some time as included in recognized safety standards such as IS-BAO". She provided examples of how to develop an MRAT appropriate for different types of maintenance operations and encouraged them to add this to their Safety tool box.
Ms Grey said "I received good questions from attendees after the presentation and via email. Operators were interested in developing an effective IEP or an MRAT and vendors were interested in learning more about the risk assessment process. This tells me that the information presented resulted in some value added take-a-ways. Everyone expresses safety is their number one priority and safety days such as this one allow me the opportunity to share information I've learned over the years to hopefully help operators raise their bar on safety and compliance".
CAM credit was given for NBAA attendees.
Mentair Group is an international aviation consulting company providing services such as auditing, training and manual development. Ms Grey has an extensive background in aircraft maintenance quality, compliance and safety. She is former senior management with a major airline, an accredited IS-BAO auditor, and has many years' experience working in business and commercial aviation. She provides a diverse portfolio of consulting services with Mentair Group http://www.mentair.com. The company's primary objective is to provide clients with a unique array of services derived from Mentair Group's auditors and associates who have diverse backgrounds in operational safety, safety and quality management systems and maintenance operations. Mentair Group offers comprehensive and practical audits and assessments for business and commercial operators, and repair stations. The company's audit philosophy is to assist aviation operators achieve a high level of safety, quality and compliance. Mentair Group has offices in Omaha NE and Phoenix AZ. It is also a preferred educator for the International Society of Safety Professionals http://www.isspros.org.