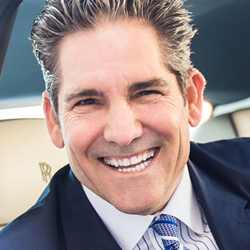 "Everything in life can—and should—be treated as a sale" — Grant Cardone
New York, NY (PRWEB) May 18, 2016
New York Times bestselling author and an internationally renowned speaker on leadership, real estate investing, entrepreneurship, and finance—Grant Cardone—has been invited by the Nasdaq Leadership Program to give powerful strategies for success to new graduates and business leaders in Times Square. The intense, interactive event will take place from 1-3pm Monday, May 23rd in the heart of New York City hosted at Nasdaq.
The Nasdaq Leadership Program started the Social Entrepreneurship Graduate Class to help people get a career jump-start with rare creative insights from top influencers in business, social media, marketing, and personal empowerment. Grant Cardone, the #1 Live Streamer in the World, is a thought leader who identifies with Nasdaq's ongoing mission to support emerging business leaders and to nurture entrepreneurship.
"Everything in life can—and should—be treated as a sale" — Grant Cardone
As a respected, highly regarded master salesperson whose passion is to teach others how to sell themselves, their products, and their services regardless of economic climate, Grant Cardone is the perfect fit to ring the Nasdaq closing bell at 3:30 after the presentation. The 3,600 companies that list on the Nasdaq Stock Exchange depend on one thing only—sales.
Seating is extremely limited but the presentation will also be broadcast over the digital billboard in Times Square.
For further press information on Grant Cardone please contact Vaughn Reynolds:
Vaughn Reynolds – Public Relations
Cardone Training Technologies, Inc
Phone: 310.777.0255
Fax: 310.777.0256
Web: http://www.grantcardone.com