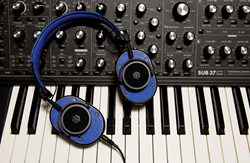 New York, NY (PRWEB) May 17, 2016
New York City-based premium audio company Master & Dynamic further elaborated on its longstanding relationship with illustrious Paris, France-based boutique Colette today with the release of an exclusive new colorway: cobalt. The limited quantity colorway will be available for both the MH40 Over Ear and MH30 On Ear Headphones, and will retail only at Colette's flagship store and on Colette.fr for €399 and €329 respectively.
Recognized as one of Europe's most elevated and on-trend fashion destinations, Colette – which has carried Master & Dynamic since 2014 – will be the first to receive its own colorway, the brand's first such offering of 2016. The bright blue will add a bold color to the company's existing black metal option, the visual sure to turn heads and the stellar sound quality sure to impress listeners.
Master & Dynamic's new cobalt colorway is the latest addition to Colette's coverage of the brand, which features the signature MH40 Over Ear Headphones ($399/€399) in the black/black, black/navy and silver/brown colorways and the MW60 Wireless Over Ear Headphones ($549/€579) in gunmetal/black.
Thus far 2016 has seen Master & Dynamic add projects with The Rolling Stones and Japanese designer Poggy to its resume, along with the new Palladium ME05 Earphones, which Hypebeast praised for their "first class audio capabilities." The brand's commitment to excellence earned it high marks in 2015 as well, with the release of a number of highly rated new products and designs such as the MW60 Wireless Over Ear Headphones, the brass ME05 Earphones, the silver/white colorway, Alcantara edition headphones and limited edition custom hand-painted headphones all debuting before the end of the company's first full year. For more information on Master & Dynamic, visit http://www.masterdynamic.com.
About Master & Dynamic
Master & Dynamic is a premium audio brand obsessed with sound and creativity. It is a New York City-based company with a deep passion for building beautifully crafted, richly appointed, technically sophisticated sound tools for creative minds. Its collection of headphones are tuned to provide a rich warm sound that perfectly captures the exceptional detail of well recorded music. Master & Dynamic sees its headphones as modern thinking caps: tools to help focus, inspire and transport your mind. Designed for decades of use, Master & Dynamic products are engineered to last, utilizing only the finest materials such as premium leathers and stainless steel, which create the perfect balance of aesthetics, strength, comfort and sound. View the entire collection at http://www.masterdynamic.com.