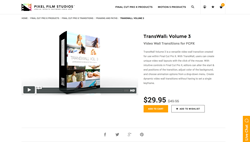 TransWall Volume 3 has unique sets of video wall transitions for FCPX
Aliso Viejo, California (PRWEB) May 16, 2016
"TransWall Volume 3 has unique sets of video wall transitions for FCPX," said Christina Austin - CEO of Pixel Film Studios
TransWall Volume 3 is a versatile video wall transition created for use within Final Cut Pro X. With TransWall, users can create unique video wall layouts with the click of the mouse. With intuitive controls in Final Cut Pro X, editors can alter the start & end positions of the transition, adjust the color of the background, and choose animation options from a drop-down menu. Create dynamic video wall transitions without having to set a single keyframe.
TransWall Volume 3 features presets with up to 25 drop zones. Freely insert pictures, videos, and more with intuitively labeled drop zones in Final Cut Pro X. Seamlessly transition between two clips without having to set a single keyframe.
TransWall's simplistic controls allow users to quickly create new animations with absolute ease. Utilize the start and end drop-down menus in the inspector window to choose the position that the transition starts from and animates to. Pixel Film Studios makes editing easy in FCPX.
In addition to position animation controls, users can adjust the speed of the animations within the transition. Locate the speed method controls to determine the interpolation of drop zone animations. The options are endless with TransWall presets.
Users can quickly add a rotation animation to any preset with drop-down menus with TransWall Vol. 3. Utilize these animation options to spice up family slideshows, presentations, and any other Final Cut Pro X production. This plugin is the perfect complement to any edit.
Established in 2006, Aliso Viejo, California-based Pixel Film Studios is an innovative developer of visual effects tools for the post-production and broadcast community. Their products are integrated with popular non-linear editing and compositing products from Apple FCPX. Apple, the Apple logo, Mac OS X, and Macintosh are registered trademarks of Apple Inc. in the U.S. and/or other countries. All other trademarks and trade names are the property of their respective owners.