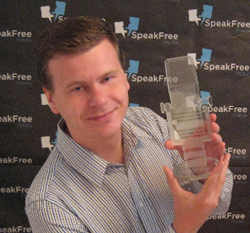 Our anniversary celebration lasted almost as long as a Cher farewell tour
West Hollywood, California (PRWEB) May 17, 2016
SpeakFree Media Inc. today announces the conclusion of a month-long 10th anniversary celebration of the company's syndicated radio show, Top of The Charts, with celebrity guests joining host Jeremy Bradley.
For the first time ever, the show is music-free and going all talk for two hours. Celebrity guests include Judy Sheindlin ("Judge Judy"), Nigel Lythgoe ("So You Think You Can Dance"), Ben Mulroney ("etalk"), comedian Margaret Cho, Rachel Reilly ("Big Brother") and music group O-Town. In addition, Bradley rebroadcasts some of his most memorable on-air moments and chats with colleagues about the show's history.
From humble beginnings in a Winnipeg basement, aspiring broadcaster, Jeremy Bradley, forewent a job with a major broadcaster to pursue entrepreneurialism by creating, producing and hosting a two-hour top 40 music show on a small Internet radio station in Vancouver that now a decade later is heard on dozens of North American stations. He later formed the company SpeakFree Media Inc.
After hundreds of celebrity interviews (http://www.speakfreecelebwatch.com), countless live red carpet broadcasts (live.jbonair.com) and travel/tourism programming all over North America, Bradley, also a syndicated newspaper columnist and bestselling author, takes a moment to reflect on the past decade at 10years.ca, a special website looking back at the show's milestones.
The website includes photos, audio and video from SpeakFree Live Events in Los Angeles, New York, Las Vegas and hot-spot travel destinations across North America.
"Never would I have thought my little show could turn into this," said Bradley. "If you asked me 10 years ago if I wanted to be a radio host I would have said no because I was focused on newspapers. I am happy I kept an open mind and reluctantly took the opportunity to host my own show. As cliché as it sounds, you really can do anything if you put your heart and soul into it."
The early success of Top of The Charts spawned spinoff shows The Open Road with Jeremy Bradley, a two-hour weekly country music program, and the daily Entertainment Wrap Up (http://www.entertainmentwrapup.com) celebrity news segment. Bradley also hosts a weekly podcast called The Scribble (http://www.thescribbleshow.com) that features extended interviews not heard on the radio shows, plus engaging chatter about stories in the news.
"Our anniversary celebration lasted almost as long as a Cher farewell tour," said Bradley. "After 10 years we couldn't just settle for one show. So, beginning in April we aired three weeks of special programming from Puerto Vallarta (pv.jbonair.com) – a destination we've broadcast from four times, and now conclude with some famous friends and a walk down memory lane."
The complete two-hour Top of The Charts anniversary broadcast is online at 10years.ca.
SpeakFree Media Inc. (http://www.speakfreemedia.com) produces syndicated radio and newspaper content for outlets across North America. SpeakFree Books (http://www.speakfreebooks.com) publishes a variety of mass-market paperbacks, including bestseller The Official Guide to Being a Winnipeg Cheapskate.